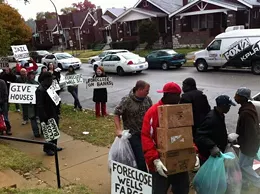 Leah Greenbaum
Movers from the sheriff's office ignore protesters, as they empty 4665 Penrose.
What do you say to a woman who is losing her home of 21 years, watching as strangers drop all of her possessions in trash bags on the curb?
"If anyone interferes with our movers, we're taking all of your things to the dump," a sheriff's deputy told Angelia Williams, who stood outside her Penrose home in tears this morning.
After years of trying to get through to Wells Fargo for a loan modification--and despite direct help from Mayor Francis Slay--Williams was finally evicted today. About 30 activists protested the forced eviction on Williams' lawn and several risked arrest to forcibly prevent sheriff's deputies and movers from entering her house.
This was the third stand-off between Williams' supporters and the sheriff's department in the last month. Williams' eviction has been delayed several times, after State Representative Jamillah Nasheed (who drove by the eviction this morning but did not get out of her car) called the sheriff's office herself and asked them to postpone the eviction. A week later Mayor Francis Slay called Sheriff James Murphy and asked him to give Williams more time to make a deal with Wells Fargo.
Leah Greenbaum
Angelia Williams looks on tearfully as police officers and movers prepare to enter her home.
Kara Bowlin, the mayor's press secretary, told Daily RFT that Slay took an interest in the case after it was brought to his attention by the non-profit Beyond Housing.
"It seems like Williams is close to getting something figured out with the bank and the mayor is absolutely interested in helping this woman stay in her home," Bowlin said Thursday afternoon. Bowlin said Slay contacted Wells Fargo himself this week, but had not heard back from them, as of Friday morning.
Williams was on the phone with Wells Fargo and a number of elected officials this morning to no avail, as police officers and movers employed by the sheriff's office surrounded her home. Trouble began for Williams two years ago, when the recession was at its worst. She was still employed but worried about layoffs in 2010 so she called her bank to ask for a loan modification.
"They said that since I was employed they couldn't give me a modification," she said from her yard, where icy rain fell throughout the morning. "Then when I was unemployed, they told me that because I was unemployed I couldn't get the modification." "She's really done everything," said Molly Gott, an organizer for the anti-foreclosure group Missourians Organizing for Reform and Empowerment, who has been working with Williams for some time. "She's been talking to Wells Fargo from the beginning. She's met with home advisers. They just keep giving her the runaround."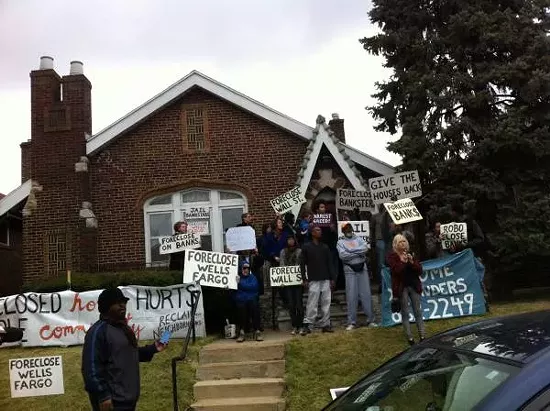 Leah Greenbaum
Activists from Occupy, MORE, and Beyond Housing demonstrate outside Williams' home. Some risked arrest by interfering directly with the eviction.
Gott says Wells Fargo did a lot of things to Williams that would be considered illegal in any other state, like dual-tracking (when banks say they will work on a loan modification, but at the same time, continue with the process of foreclosing). She added that Missouri has some of the worst (i.e. lightest) legislation on homeowners' rights in the country.
This is the first large-scale "home defense" against eviction to take place in St. Louis. In the last year, the tactic has become a popular tactic among activists who identify with the Occupy movement. According to Gott, home defenses have been successful in other cities like Baltimore and Atlanta, and her organization plans to do more of them in St. Louis.
Sgt. William Kiphart told Daily RFT that in over twenty years of law enforcement, he's never seen a demonstration like this at an eviction. "Normally they just protest outside the bank. ... We're just here to protect everyone's rights to free speech."
Nine cop cars, one police van, and a handful of vehicles from the sheriff's office parked on the quiet street in North St. Louis to oversee the eviction.
Organizers from MORE said they planned to "occupy" the home to prevent sheriff's deputies from kicking Williams out. According to Jeff Ordower, another organizer for MORE, when the police told Angelia that if anyone harassed, blocked, or touched a mover they would take all of her things straight to the city dump.
"Obviously the police are playing dirty today..." Ordower told demonstrators. "I think the priority right now has to be making sure Angelia's possessions are safe."
Williams doesn't have any family to stay with and doesn't know where she'll spend tonight or store her things. She says she didn't have children or start a family, because she knew she wanted to own that bungalow on Penrose.
"I've been making huge payments on this house for over 20 years," Angelia said. "I thought I was a homeowner, and now they tell me I don't own my own home."
Read on for press release from MORE. Press release from Missourians Organizing for Reform and Empowerment:
With Public Officials Succumbing to Wells' Pressure, Angelia Williams is Evicted from Her Home With No Foreclosure Mediation Bill on the Horizon, Thousands Could Face Wrongful Eviction

St. Louis residents did not let another wrongful foreclosure happen in their city without a fight. This morning, a group of about forty St. Louis community members and activists, including Missourians Organizing for Reform and Empowerment (MORE), attempted to stop the sheriff from evicting Angelia Williams from her home of twenty years at 4665 Penrose.

Ms. Williams has been trying to work with Wells Fargo to obtain a loan modification for over a year. The bank, however, has refused to work with her. On September 21st and again on October 16, Angelia's friends and supporters were able to pressure Wells to postpone her eviction.

But today at 10:15am, the sheriff arrived to evict Ms. Williams. After forcing his way through the front door, he locked Ms. Williams and a supporter in the home, threatening to arrest them and members of the group of forty people outside the home. Ms. Williams' supporters chanted "Banks got bailed out, We got sold out" and held signs with phrases including, "Arrest banks, not people."

"Angelia did everything right. She's lived in her house for twenty years. The banks crashed our economy with mortgage fraud, but now it's people like Angelia who are paying for it by being kicked out of their homes," says Anna Ginsburg .

Wells Fargo effectively silenced all of Ms. Williams' elected officials, who refused to take a stand for her. After the group successfully postponed Ms. Williams' eviction for the first time, Mayor Slay said he would hold a press conference at her home in support of foreclosure mediation legislation. But, when Wells called the mayor's office asking him not to do the press conference, he cancelled. State Senator Jamilah Nasheed drove by while the eviction was occurring, but did not get out of her car. Neither Alderperson Antonio French nor mayoral candidate Lewis Reed returned Ms. Williams' phone calls.

"No one is listening. Has Wells Fargo paid everybody off? Everyone knows that this is wrong and fraudulent, but they're still letting it go on," Ms. Williams said.

Ms. Williams eviction could have been prevented by automatic foreclosure mediation, which would require the bank to sit down with the homeowner and an independent mediator before foreclosing. Both in St. Louis County and City, automatic foreclosure mediation is not in effect. In the County, the Missouri Bankers Association, the Business Bank of St. Louis, and Jonesburg Bank are suing to stop recently passed foreclosure mediation legislation from being enacted. In the city, Lewis Reed has expressed interest in foreclosure mediation, but has done nothing to move it forward.

Although Ms. Williams was evicted today, she still believes the house at 4665 Penrose is rightfully hers. But for now, the house is empty, Ms. Williams' belongings are in a neighbor's garage, and padlocks have been put on the front door.