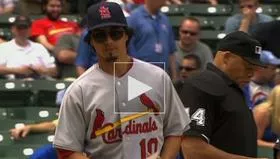 No matter how well he pitched, this will always be the highlight of Kyle Lohse's Cardinal career.
In just a little while now, the
Cardinals
will take on the
San Francisco Giants
in game three of the
NLCS
, with the series moving here to the heartland. The Redbirds have been brilliant in
Busch Stadium
this season, winning 50 games and, frankly, looking like a completely different team than they did on the road.
Today's game is huge. Like, mega-huge. Enormously important. For the team, obviously, this game couldn't really get much bigger. Win, and you go up two games to one and retain the home field advantage you earned in San Francisco. Lose, and all of that goes away. It's a really, really big day.
The man on the mound has no less riding on this game. Kyle Lohse will toe the rubber today, potentially for the last time as a Cardinal. He will do so as one of the unlikeliest staff aces you've ever seen, and with an enormous amount personally on the line.
It was way back in 2008 when Lohse came to the Cardinals on a one-year deal, the victim of a free agent market that turned cold at the wrong time, stranding him without a team as spring training began to get underway. He signed one of those 'make good' deals we always like to talk about, only at such a discounted rate it actually qualified as a make good deal, which is a little bit rare these days.
Lohse was fantastic that season, having one of the best years of his career, crediting Dave Duncan for his success and just generally earning himself a big fat contract going into 2009. When it was the Cardinals who signed him to that big fat contract, there were plenty of us who bemoaned the deal (myself most definitely included), arguing you don't sign a player coming off a career year, particularly one at the age when career years are the most common, and approaching the age when career years become a thing of the past. The timing was bad, and the contract was bad, many of us thought.
And, for the most part, the first couple years of Lohse's four year deal seemed to bear that out. He wasn't bad, exactly; you have to actually pitch to pitch poorly. Instead, he did the one thing virtually no one expected him to: he got hurt. Durability was one of the biggest selling points Lohse had working in his favor, and suddenly freak injuries were the name of the game for him. A forearm condition typically seen only in European motocross riders? Seriously? What the hell is that? It just goes to show you, those of us from the previous paragraph said, it's just too damned risky to sign a pitcher to a long-term deal if he isn't the kind of guy capable of completely dominating. Too many things can go wrong. The sheer inexplicability of the injury, in a weird way, almost seemed to prove our point.
But a funny thing happened on Lohse's way to contract infamy. He got healthy, and when he got healthy, he got good. Like, really good. Each of the past two seasons, Lohse has essentially been the Cardinals' best pitcher. He led the team in ERA both years, by just a hair last season and a fairly wide margin this year. Chris Carpenter was the man last year. We all know that. The man may very well have sold his soul (or at least a rib), to some dark power in order to lead the Cards to a championship. But during the regular season, Kyle Lohse was actually a better pitcher.
This year there was really no question. Lohse had himself a real career year, even better than the one he had back in 2008, and actually put his name in the Cy Young conversation for a while there. He was the Cards' best, most consistent pitcher, helping to steady the ship any and every time they needed him to. Should the fact he was pitching in a contract season again make us think anything other than wow, good timing?
Well, that's a tough question, and, honestly, I don't have an answer for that one. What I do know is this: Kyle Lohse will almost surely not be a St. Louis Cardinal next season. The Redbirds resigning Jake Westbrook probably put a firm end to any ideas he might be back, as there really just isn't much room in the starting rotation, even for a guy with Lohse's recent track record.
Kyle Lohse is 34 years old. He doesn't have any more career years in him. This offseason is likely going to be his last big bite at the apple. One more contract. How big that contract ends up being is anybody's guess. His performance would suggest it should be a big one. Father Time is kind of just hanging around, though, eyeing Lohse up, and you're going to have to put his name on that contract right next to Kyle's. And I don't think I have to tell you how rare it is Father Time decides to just give some dude a pass.
This could be the last time we see Kyle Lohse pitch in a Cardinal uniform, depending on how things go the rest of the way. It also could be Lohse's chance to make one last impression, on national television, on the decision makers and fan bases of the teams that will likely be vying for his services in the offseason. This team has a lot on the line in today's game. This pitcher might have even more.