Updated Nov. 5 with controversial radio ad from No MO Tax.
It's clear from the billboards sprouting up around Missouri that Proposition B is about raising taxes. But what exactly is the 760 percent tax increase that the "Vote No on Prop. B" signs warn you about?
Unless you're really into politics you'd never know. And that is somewhat by design.
Related content:
Mayors Say Health Benefits of Tobacco Tax Outweigh Any Revenue Losses
"The fact of the matter is you have limited space on a billboard to get your message across," explains Ronald Leone, treasurer of a PAC funded by the
Missouri Petroleum Marketers & Convenience Store Association
(MPMCSA) that is paying for the advertisements. "The goal of the billboards is to start guiding voters toward the path of opposition. Then they can then go online [
NoMoTax.com
] or pickup a flier at a convenience store for more information."
And there -- in the fine print -- of those fliers (below) is what Proposition B is all about.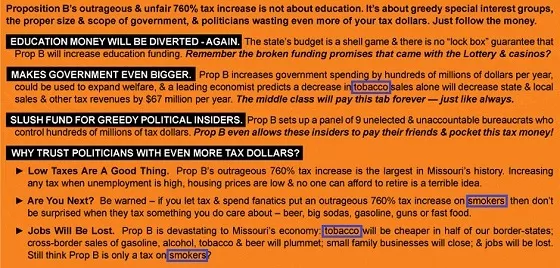 The words "tobacco" and "smokers" highlighted for emphasis.
The measure would raise the tobacco tax on name-brand cigarettes such as Marlboro and Camel from Missouri's current 17 cents a pack (the cheapest in the nation) to 90 cents a pack. For off-brand smokes (which were spared participation in a settlement Missouri reached with tobacco companies in the 1990s) the tax would increase from 17 cents to $1.47 -- for a 764 percent increase.
Leone tells Daily
RFT
that he rounded down to 760 percent to make his group's message more digestible. Missouri voters rejected ballot initiatives to raise tobacco taxes in 2002 and 2006. Since then voters in multiple municipalities in Missouri, including St. Louis and St. Louis County, have approved smoking bans in restaurants and other businesses.
"Yes, we're in a different place in 2012 than we were in 2002 and 2006 [in terms of people's attitudes toward smoking], says Leone. "But people are also more sick and tired than ever over the nanny state and government spending beyond its means and broken promises and raising prices when the economy is still struggling."
If approved by Missouri voters on November 6, just 20 percent of the tax money collected would go toward smoking cessation and prevention efforts. All the rest of the money -- estimated at $283 million annually -- would go toward education.
Campaign finance reports indicate that
Missourians for Health and Education
-- the group that is sponsoring the ballot issue -- is outraising the cigarette companies and convenience stores opposed to Prop. B by a measure of four to one.
"I wish we had the money of the proponents," says Leone, whose group has has spent around $215,000 to date opposing Prop. B. "If we can get the facts in front of the voters, we're confident that they'll reject this incredible tax hike."
Convenience stores generally earn 20 to 25 percent of their profits from the sale of tobacco products, according to Leone.
Update Nov. 5:
Below is a radio ad paid for by MPMCSA that clouds the issue even further. Over the course of the 60 second spot, MPMCSA fails to mention the words "tobacco" or "cigarettes" once while going out of its way to link Prop. B to Obamacare -- a claim that the non-partisan
Missouri Foundation for Health says is baseless
.