The weather right now screams for bike rides: Gone is the face-melting heat, gone is that freak cold snap from last weekend.
So, stash your car keys in the junk drawer, lace up your shoes, and get to one of St. Louis' nine best bike shops listed below (in no particular order).
And for more great shopping and restaurant destinations, but sure to check out Riverfront Times' Best of St. Louis 2012 issue.
Maplewood Bicycle (7534 Manchester Road; 314-781-9566) With so many different bicycles out there, different types of bikes and different brands, it can be quite a chore for even seasoned riders to know exactly what bike and what setup is ideal for them, and an outright sisyphean task for a novice navigating the racks and rows of shiny frames. You can spend a little on your bike or a lot, but if the fit isn't right, then neither is the bike. At Maplewood Bicycle, they have the staff and equipment to ensure that the bike you ride is the absolute best bicycle for you. As great as its products and selection are, it's the staff and service that make this bike shop stand out. Whether you are looking for a new bike or fixing or upgrading your old ride, you can't beat the knowledge, assistance and all-around bike love that you'll find with the staff of Maplewood Bicycle. The shop also hosts clinics to help you learn more about how to handle your bike, and it supports races and rides all over the region.
Cherokee Street Bikes (2329 Cherokee Street; 314-448-1449)Riding a bike exhilarates the senses -- the wind blowing through your hair, the sights and smells of the city, commuters kindly shouting about how you're ruining their lives. Relative newcomer to the St. Louis bike scene, Cherokee Street Bikes opened in 2011, and the shop understands the thrill of a bike ride. Whether it's a tune-up, replacing a part or you're in the market for a refurbished bike, Cherokee Street Bikes helps get your butt in the saddle. As expected, given its location on one of the coolest streets in St. Louis, the bike shop offers more than just run-of-the-mill, high-end pieces of machinery. Its restored vintage bikes probably have more personality than you do, so swing on by and pick up something you can be proud of on your next midnight ride.
Hub Bicycle Company (40 West Lockwood Avenue, Webster Groves; 314-963-0300) A full-service bike shop, the Hub Bicycle Company in downtown Webster Groves reminds customers that riding a bike can be fun. Whether you are looking for a top-quality road bike or a mountain bike, a hybrid or a BMX, or something for the kids or the happy couple, the Hub is a real bikers' center for bikes. The shop carries quality brands such as Kona, Giant and Ibis, and the staff can tell you precisely what makes each bike unique, special and right or wrong for you. And, for cute couples who can't afford the high prices and maintenance costs of a carriage, Hub's also got a good selection of handmade and hand-painted tandem bikes. The store offers bikes for adults and children, and they've got trailers to carry the little ones -- dogs, kids or cats.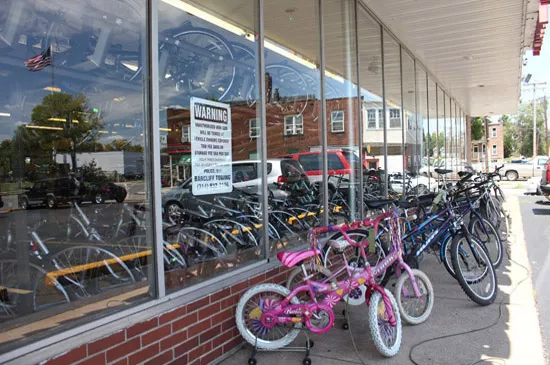 South Side Cyclery (6969 Gravois Avenue; 314-481-1120) Since the 1930s, the family-run South Side Cyclery has been outfitting St. Louis bikers with bikes and equipment to help get them around the city or around the racetrack. Today, the Gravois Avenue shop offers a wide variety of adult and children's mountain, road and BMX bicycles that all come with free assembly and adjustments for a year. The experts at South Side Cyclery bring knowledge and a helpful, friendly approach to their sales, and they help you pick out the right bike, whether you are looking for weekend rides around Missouri's beautiful trails or you're trying to ditch your car for an healthier, more eco-friendly commute. They also help you put their knowledge into practice when you test ride your new bike in their large lot, so you never have to worry about bicycle-buyer's remorse.
St. Louis Bicycle Works (4102 Shenandoah Avenue; 314-664-0828) What is a bicycle? Is it just a mode of transportation or piece of exercise equipment? Is a bike just something that you ride, or is it something that can alter your life and open up an avenue to possibilities you never before imagined? At St. Louis Bicycle Works bikes are about making dreams come true and building confidence and discipline. In addition to its warehouse of refurbished bikes and used and hard-to-find parts, Bicycle Works provides kids with an opportunity to earn a bicycle by learning how they work. Through its free six-week program, kids learn hands-on about how to maintain a bike, rider safety and problem solving, and receive a free bicycle, helmet, safety light and lock, in addition to a sense of responsibility and accomplishment. In its 24-year history, more than 10,000 inner-city youths have earned bicycles that were more than just toys. Bicycle Works also has a knowledgeable staff that will help you get a great bike at a reasonable price, and they'll help you keep it in great shape too.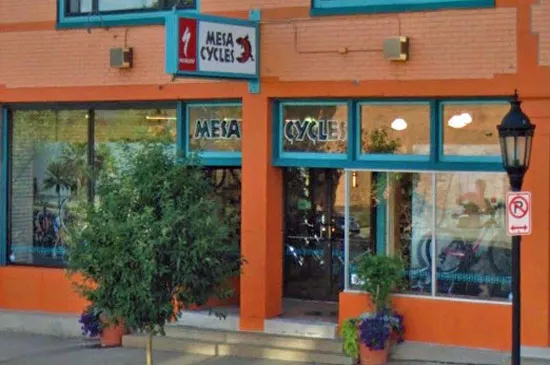 Mesa Cycles (1035 South Big Bend Boulevard, Richmond Heights; 314-645-4447) For those who realize that a bicycle is more than just two wheels that help get us from one point to the next, there's Mesa Cycles. Mesa is serious about bikes, which is why they carry some of the finest pieces of machinery available in the St. Louis area, including a heavy emphasis on Specialized brand bicycles and equipment. Don't let the price tags at Mesa scare you off -- these beauties are built to last. The store, located in Richmond Heights, also offers in-house services including overhauls and custom-built bikes. Looking for some tips? Every employee is a rider, so expert advice comes standard.
Sunset Cyclery (10748 Sunset Hills Plaza, Sunset Hills; 314-966-5505) Since 1997, Sunset Cyclery has been providing quality bikes, clothing and accessories to its customers. The shop, which has locations in Chesterfield and Sunset Hills, carries bicycles for all tastes from the classic go-to bike brand Schwinn to the popular Specialized brand, and Sunset recently added Jamis to its collection. Potential customers can even peruse the store's catalog on Sunset's website. Inside the shop, the friendly staff will help novices and pros to find what they need for their dream biking experience. As does any good bike shop, Sunset will service your ride or, if you're a bit of a Mr. or Miss Fix-It, stop by the store's repair classes to learn how to do it yourself.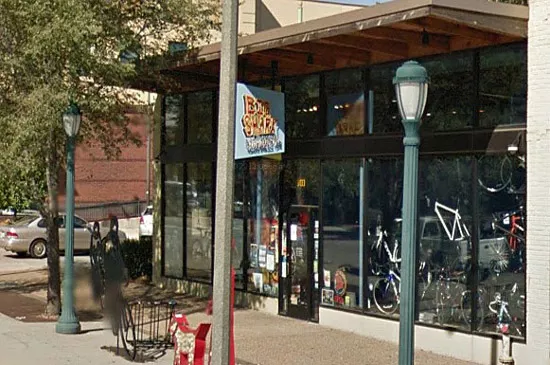 Big Shark: The city's best bike shop in 2012.
Big Shark Bicycle Company (6133 Delmar Boulevard; 314-862-1188) If the last time you walked into a bike shop meant that some bike expert who would rather not be bothered by your pedestrian problems sold you something far too expensive that you neither needed nor wanted, then you should have gone to Big Shark Bicycle Company instead. Not only do they have, or will get, everything you could want, from bikes to frames to components to apparel to education to repairs, but they do it all with a friendly, knowledgeable and helpful staff that thinks your bike is as important as you do. The folks at Big Shark also offer classes in riding and repair, and whether you're a newbie who doesn't know a derailleur from a crankset or a sponsored pro, you'll never leave Big Shark with a bike or part that isn't a perfect fit for what you need. Big Shark Bicycle Company also sponsors local races, triathlons, runs and group rides for bikers of various levels.