Scott Hutcheson had no idea he'd made a terrible mistake when he changed his Facebook status to "in a relationship" without consulting his then-girlfriend.
Hutcheson, a local filmmaker and graphic designer, recently went through a divorce and emerged on the other side like Rip Van Winkle -- the dating world was utterly different.
"I didn't realize how popular or important the Facebook relationship status had become," he says. "She got offended. She was like, 'Why are you doing this?'"
Hutcheson's girlfriend eventually agreed that, yeah, sure, they were together so it made sense to make it Facebook-official. Everything was cool, until a mutual friend commented that it was weird that Hutcheson's profile said "in a relationship with _______" and the girlfriend's page said nothing.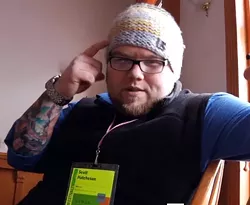 "She hid it so nobody on her profile could see it. I didn't realize it at the time," says Hutcheson. "I did some digging, and I found out that she was seeing another guy, off and on, who was also one of her Facebook friends. That's why she didn't want it posted."
Rather than go to pieces over his faithless Facebooker, Hutcheson got curious. He started researching the demise of relationships because of or over FB and found some fascinating statistics. For example, one survey showed 25 percent of users found out their relationships were over when a partner abruptly changed their status to "single." Or that Facebook is named in about one-third of divorce filings, often as the venue for/proof of infidelity.
"Another friend of mine, she went though a divorce and posted every single aspect of the divorce from the beginning fights through to the final divorce," says Hutcheson. "How much is too much? Where do you draw the line?"
Well, Hutcheson is about to find out. For his new documentary, The Status, Hutcheson is looking for St. Louis-area folks who are -- ideally -- in the midst of a Facebook-related breakup or have some really wicked horror stories, and are willing to share their tales of woe.
And he'd never ask anyone to do something he wouldn't. The majority of the film will be a first-person story. Not only is Hutcheson going to dive into his own breakup, he's entering a high-stakes game of oversharing. See, he's found a new lady love, but as a part of the film, he will be sharing absolutely everything that happens in the relationship on his Facebook page.
"I'm going to see if people stop talking to me, if they stop following my posts, if my friends go down," he says.
Sounds like a beautiful train wreck. But how does the girlfriend feel about all this?
"I said, 'If you start to get mad, you're just going to get mad. I'm going to have to film it,'" he says. "Hopefully this documentary doesn't end our relationship. But it's in the name of science and hopefully making people a little bit smarter about what you post to Facebook."
Anyone interested in being a part of the film can contact Hutcheson through the film's website.
This will be Hutcheson's third documentary. Watch his second, a documentary about the Sundance Film Festival with cameos by Philip Seymour Hoffman and Malin Akerman called Redford Sent Us, here:
Redford Sent Us: Feature Length Sundance Documentary from Anthony Meadows on Vimeo.