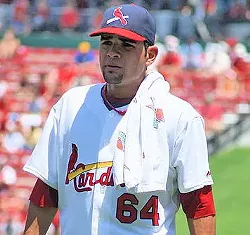 Garcia: Pulled his Jaime.
The
Cardinals
did what they needed to do in game two of their NLDS series against the
Washington Nationals
, beating up on the Nats' pitching staff to the tune of twelve runs and evening the series at one game apiece. Unfortunately, the victory didn't come easily, and things can't just be simple for the Redbirds as they prepare to play a pivotal Game Three in Washington.
Jaime Garcia left the game after the second inning in Game Two with what looks like a shoulder issue, which is bad. What's worse, though, is that nobody seems to be able to agree on how they feel about it. And it looks like things could get ugly.
As first reported by Joe Strauss of the St. Louis Post Dispatch
, Garcia has been removed from the Cardinals' playoff roster, and there appears to be some internal dissatisfaction with the lefty.
Actually, let me correct that. There appears to be two distinct kinds of internal dissatisfaction with Jaime's current state of affairs. Jaime's teammates seem unhappy he took the mound in a potentially physically compromised state, putting the whole team's season at risk. And, really, I can't blame them for that. I understand trying to get out there and do your job even when you aren't at your best; I really do. After all, I write an internet sports column on a daily basis while only reading at a third-grade level (at best). You do what you gotta do. But when someone tries to do their job in a compromised condition, it puts everyone who's depending on the compromised individual in a bad situation as well. So I can understand the players being upset.
On the other hand, it appears there are also some within the organization who are questioning whether or not Garcia is actually as hurt as he says he is. As in, they think he's just kind of a head case, and isn't really suffering from the sort of injury that would knock a player out of a playoff game.
So on the one hand, we have players who are angry Jaime tried to pitch in a potentially compromised condition. On the other, we have organization types angry because they don't think Jaime is really hurt. Kind of a worrisome situation, don't you think? How is a player supposed to make an honest assessment of his physical condition, and his ability to contribute to the team effort, when the guys upstairs are whispering that the only injury he's really suffering from is to his balls?
This is just the kind of organizational dysfunction I was hoping would depart with the Tony La Russa era, where players were the subject of mind games and media attacks on a distressingly regular basis. And, for the most part, we haven't seen much of this kind of thing. For all the drama and frustration the 2012 Cardinals have gone through, there hasn't been much in the way of player/manager/front office feuding.
Now, though, we have Jaime Garcia caught between angry teammates who feel like he risked their season to be a tough guy and an organization that is telling him he has to be a tough guy. It's not a good situation. The club called it a rotator cuff strain and said he's going to get a second opinion; if it turns out Jaime is really hurt then I would think someone in the organization has some 'splaining to do.
For now, Shelby Miller will replace Garcia on the roster, giving the Redbirds another power-armed option out of the bullpen for the remainder of the NLDS, which is certainly not a terrible thing. Long-term, though, you have to wonder what kind of taste this is going to leave in the mouths of all involved. And in the medium term, Jaime is ineligible to return to the active roster for any potential NLCS action.
Regardless, this is exactly what the Cardinals don't need right now. Let's hope missing Jaime Garcia the rest of this series is the worst that happens.