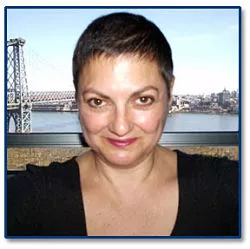 Frances Madeson was a Missouri girl who moved to New York City. After her marriage ended, she left the big, bad city and moved to Farmington in Madison County, about an hour and a half south of St. Louis, where she set up a business writing letters and resumes for the good country people.
Soon enough, she became acquainted with Karen Whitener, a former mayor of Fredericktown, the Madison County seat, who had started up a fortnightly newspaper called the Madison County Crier. The Crier had gone under, but Whitener thought Madeson was just the woman to bring it back. Madeson, who saw in the Crier a potential bully pulpit, agreed. Her first issue came out in June.
Six issues later, it all went to hell.
Madeson is a good liberal, you see. She was brought up near St. Louis by a father, Marvin Madeson, who did the PR campaign for Eugene McCarthy in 1968 and later founded the New Democratic Coalition. After she graduated from Washington University, she went east to work as a legislative aide in the U.S. House of Representatives Committee on Education and Labor and then for several New York law firms and non-profits.
Like McCarthy, she considers herself a "change agent" and is passionately anti-war. (That's where her letter-writing business comes in: As she told Michael Miner, the longtime media critic for the Chicago Reader, "A precondition to change is to restore language to people.")
So when William and Donna Killian of Fredericktown submitted a notice to the Crier about how their son, Caleb, had graduated from Marine Corps boot camp, Madeson saw not the chance to print some local news, but an opportunity.
She dutifully printed the news about Caleb's graduation in the September 12 issue, and how he qualified as expert in marksmanship and was prayer leader for his platoon. And then she launched her protest.
She wrote:
In an alternative universe (the one many of us are dreaming of and working toward), this announcement might say:

Caleb Killian...graduated from U.S. Peace and Love Corps boot camp. Killian graduated from boot camp as a Private First Class and received recognition for qualifying as expert in compassion....

During the 13 weeks of boot camp, he was trained in both class and field environments in first aid, uniform regulations, water preservation and desalinization, astronomy, hand-to-hand massage, the basics of vegetarian cuisine and close order jitterbugging.

He will return to Fredericktown, MO, to lead us in drum circles, elaborate games of charade, campfire stories (by turns spooky and hilarious), and will conduct a workshop at Courthouse Square on how to irreversibly transform bayonets into pruning hooks, once and for all.
Madeson would claim this was satire. Her readers, many of whom knew Caleb Killian and his family, thought it was insulting. Those who were in a position to pull advertising did so. Madeson was unrepentant and, in several open letters on the paper's homepage, continued to rant like a self-righteous fourteen-year-old:
A young marine graduates from boot camp, to even suggest a wish for a safer way forward is viewed universally as "disrespect." Much is made of the fact that I didn't ask permission of those who submitted the announcement to alter it with a message of peace and love. I wasn't a good girl, I didn't ask mommy and daddy. The bullies didn't much like that, hierarchy and power relations (masked as manners) must not be upset. No new currents of thought can be introduced, it's not polite!
In fact, Madeson continued, she was doing the Killians a big favor by even deigning to print their announcement about their son. She could have ignored it -- which is what she would have done if she were really so anti-military! She could have called them and let them know what she was planning to do.
"But," she wrote, "I wanted to establish the practice that if you send me stuff (and I hope that you will, the more challenging the better), I'm going to use it creatively to promote thought, even critical thinking."
She also had a message to for her former advertisers:
To the advertisers who bailed not on me (I really don't take it personally), but on the principle of allowing dissenting and diverse opinions and modes of expression to be aired in the public discourse here in Madison County, I would like to make myself crystal clear. Either you find a way with your dignity fully intact (who among us hasn't had a knee-jerk reaction at one time or another?) to come back in by the next advertising deadline, Friday, September 21st, and no one's the wiser, or you NEVER come back in. After the 3.7 issue is published on the 26th, there is exactly NO amount of money you could ever offer me to get back in. I'm sorry to have to be so mean, but there have to be consequences for open displays of cowardice.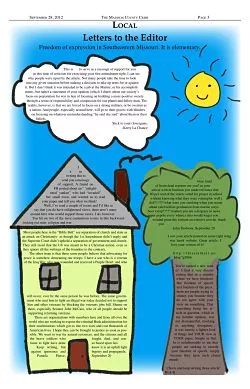 The Letters to the Editor page in the most recent issue of the Crier.
Amazingly, this display of love and compassion failed to move anybody. The following issue (which appeared on September 28, two days later than promised) was mostly bereft of advertising (although Stëvë, the Rapper-Photographer, remained loyal). It was, however, full of letters to the editor, many of which appear on a backdrop of houses and people flying kites that appears to have been drawn by small children (but were probably just executed in Microsoft Paint). To her credit, Madeson published angry invectives as well as letters of support. And this from another displaced city liberal who found herself back in rural Missouri:
Having enlightened myself with the arts and the world, I thought I was being sentenced to a life without good coffee, wine, and conversations about literature and world events. I feared that I would be relegated to Bud lite, MD2020, and conversations about God and Nascar. That was a huge mistake on my part. And I fear, one that you have made in your last issue....

While I hope your intention wasn't to belittle or insult that young, brave Marine, that is what it came across as to many, if not all, readers. Agree with the war and the current government or not, the one thing every person in Madison County and the surrounding areas has in common is a love and undying respect for the men and women who wear that uniform.
Others were not nearly so kind.
Whitener, the Crier's former publisher and now, apparently, Madeson's former friend, publicly distanced herself via a statement on Facebook.
"I think her objectives are fantastic," she told the Reader's Miner. "I'm flabbergasted by what a fantastic writer she is. That makes it all the more frustrating. She could have written an editorial that could have made the most conservative folks stand up and say, 'Wow! Why are we sending our children off to war?' But she didn't."
The Killians, for their part, took an ad out in the Crier's rival, the weekly Democrat News, apologizing to their son.
Miner, as a seasoned media critic, views the kerfuffle down in Fredericktown as an experiment in hyperlocal newspaper publishing, printing news that will interest only people in the immediate vicinity. He also sees Madeson as someone who, in an age of corporate-owned media, is trying to fill the shoes of an archetypal figure in American lore: the crusading newspaper editor/publisher who, as he puts it, "set up shop in steamy backwaters and preached a gospel of equality and fair play."
The problem with that, he notes, is that "it was always easier to admire such an editor than to be one. If the voice you hope to inspire with isn't pitch-perfect, all you're going to do is drive people nuts."
Still, he adds, she got the attention of everybody in town. How many city newspapers (not to mention blogs) can still do that?
A new issue of the Crier is due out today, if it sticks to its former publication day of Wednesday. Stay tuned.
(And also, we can't possibly be the only ones who think this sounds like a Christopher Guest movie waiting to happen. Can we?)