El Perú-Waka' Archaeological Project
The tomb of K'abel, Supreme Warrior and Snake Lord. Her skull peeps up just above the plate fragments.
At the end of the seventh century, the Mayan queen K'abel was the most powerful ruler in northwestern Petén, Guatemala. Not only did she reign with her husband K'inich Bahlam for nearly twenty years, she also bore the titles Supreme Warrior and, most awesomely, Holy Snake Lord -- which meant her authority vastly exceeded that of the king.
Now a team of archaeologists, led by Washington University professor David Freidel, believe they have found her tomb.
Freidel and his group, which includes co-director Juan Carlos Pérez, a former official in the Guatemalan government, and a former student Olivia Navarro Farr, now a professor at the College of Wooster in Ohio, have been investigating the ancient Maya city of El Perú-Waka' since 2003. El Perú-Waka' is about 45 miles west of Tikal and is about two-thirds of a mile square. The archaeologists have been concentrating on what Freidel calls "ritually charged" areas.
This past spring they began investigating a shrine about halfway up the city's main pyramid. Based on historical records, the archaeologists knew the shrine was sacred place to many generations of Mayans, even after the fall of the dynasty that ruled El Perú. It contained the remains of a fire altar.
Beneath the altar, Freidel and his team found the bones of what their report describes as "a single mature individual" surrounded by lots of ceramic vessels and pieces of jade jewelry and the remains of other, more perishable items. (An investigation is currently underway to figure out what, exactly, those items were supposed to be.)
The bones themselves have deteriorated too much for anybody to determine whether they belonged to a male or female. The archaeologists did, however, find a large red spiny oyster shell on what would have been the torso, sort of like the ones the queens of Waka' liked to wear as girdles, a good sign that the tomb's inhabitant was also a queen.
But what really caught the team's interest was this alabaster jar. Or, more specifically, the hieroglyphs engraved on an alabaster jar.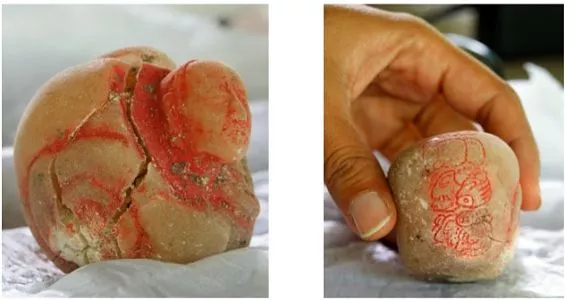 El Perú-Waka' Archaeological Project
The jar itself (left) shows the head and arm of an old woman emerging from a conch shell. In Classic Maya religious iconography, Freidel explains in his report, the conch shell represents "the dwelling place of royal ancestors and gods." White vessels like this one (we'll take Freidel's word that it was white when it was first buried 1400 years ago) were known to have been used in royal Maya burial rituals; similar ones have been found in tombs of Tikal.
But what really got Freidel excited was the four hieroglyphs on the other side of the jar. Though the second glyph is too damaged to read clearly, he's pretty sure that the glyphs all together can be translated as something like "This jar contains [something] belonging to Lady Waterlily-Hand, Lady Snake Lord."
Phonetically, "Lady Snake Lord" is Ix Kan Ajaw which, Freidel writes, "is almost certainly an alternative spelling of the name of Lady K'abel." At least based on other carvings on the wall of the tomb.
(You have to feel a bit sorry for archaeologists. Even though their job involves lots of travel and mild adventure, and even though it's been totally glamorized by the Indiana Jones movies, they can never be absolutely sure of what they've found since the only people they could ask have been dead for hundreds or thousands of years.)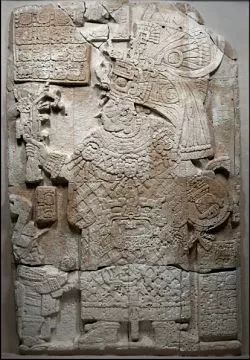 Cleveland Museum of Art
Portrait of K'abel -- with ceremonial headdress and dwarf.
For Freidel, this find is particularly exciting because it's a rare instance where written history corresponds to archaeological evidence.
"The Classic Maya civilization is the only 'classical' archaeological field in the New World -- in the sense that like archaeology in Ancient Egypt, Greece, Mesopotamia or China, there is both an archaeological material record and an historical record based on texts and images," he said. "The precise nature of the text and image information on the white stone jar and its tomb context constitute a remarkable and rare conjunction of these two kinds of records in the Maya area."
Not to mention the fact that K'abel is already a fairly well-known figure to those who study Mayan history. Her and her husband's reign correspond to a golden age in the history of El Perú-Waka' -- which is why her tomb remained a sacred site years after her death and the fall of the dynasty -- and there's a pretty good portrait of her in the Cleveland Museum of Art (right). And, as you could probably guess, given her titles, she was one of the most badass women in Mayan history.