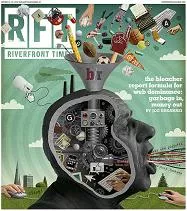 What in the devil was wrong with last week's paper?
We posted the following letter on
RFT's Facebook page
last night. It has since generated dozens and dozens of "likes" and comments -- so much so that we figured our blog readers might appreciate it as well.
We have no idea what set the reader off in last week's issue -- which was a pretty mild edition of the
Riverfront Times
.
Take a look at the following note, and then tell us:
Are
we representing the Devil?