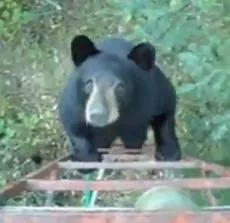 "Hey? What are you doing there?"
Black bears are making a big comeback in Missouri. Over the past seven years there have been dozens of sightings of the animals in the Show-Me State, including at least one report of a curious bear trying to join a hunter in his tree stand.
In this month's Missouri Conservationist, hunter Daron Wilkins tells of a black bear that climbed the ladder to his tree stand while he was hunting for deer in southern Missouri's Webster County.
"I had no idea how fast a bear can climb," said Wilkins, who was able to scare the animal off with some noise after the bear was within just a few feet of him. "I don't think she had any idea I was in the tree."
Wilkins posted a video of his encounter on YouTube. Sadly, the video is no longer available for viewing. But a quick search of YouTube found a very similar video (below) said to be of a Missouri black bear -- which is why we say that at least one bear has attempted to join a Missouri hunter in a tree stand.
Don't know about you, but we admire the hunter's calm in addressing the bear. We're pretty sure we would have reacted like the kid below, who experienced a similar situation with a bear in an unknown location.