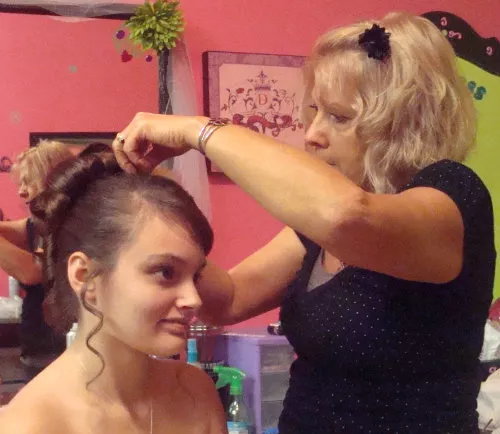 Courtesy Tonya Cookson Tanner
Baillie gets an up-do at the consignment shop.
Baillie Tanner, the 15-year-old Pacific High School sophomore whose parents discovered she was the target of a cruel homecoming prank, was crowned on Saturday and attended the school dance.
Although rumors have swirled for weeks that she would be jeered or even pelted with eggs, the event went off without a hitch, according to Baillie's mom Tonya.
"Whenever they announced Baillie's name, there was a section in the middle that actually stood up and cheered," says Tonya. "That seemed genuine."
But aside from the niceties of this singular evening, it appears the story may also have a genuinely happy ending.
Back in late September, Pacific High School held elections for the homecoming court. Baillie -- who is mentally challenged and didn't have any friends that her parents knew of -- won with 35 percent of the vote. The Tanners soon discovered it was intended as a mean-spirited joke. The worst rumor alleged that because Baillie has a pet duck, the kids would throw eggs at her and quack.
Baillie's dad posted to his Facebook page about the incident and the local media seized on the bizarre plot. Ultimately, school administrators identified and disciplined "several" students behind the scheme, but found no evidence that there was any "duck prank" planned. Tonya says she isn't sure there was ever any truth to it.
"That was the most cruel of the scenarios that was given to us. That's the one that set us off," says Tonya. "There were others but there was never any proof for those either. Hindsight 20-20, I wish I'd never repeated that one out loud."
Nevertheless, the outpouring of support was instantaneous. Baillie was offered multiple vehicles to take her to homecoming, a Miss Stars of the Universe sash and crown, even -- according to Tonya -- cold hard cash. Tonya says they decided to turn most of the offers and the money down.
"That's wonderful but it didn't help us fix the situation," she says.
The Tanners did accept help from one consignment shop in Pacific who provided Baillie's dress, make-up, and up-do. That's also where Baillie's three brand new friends met her.
"There are some other girls that didn't really have friends either. Now those girls have kind of come together, they're kind of their own group now," says Tonya. "What surprised me more than anything else are the kids who are including her now. They surprised me by accepting her."
Click through to see photos of Baillie and her entourage.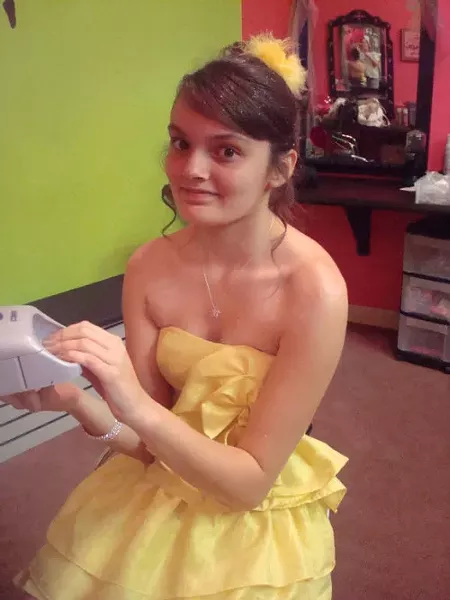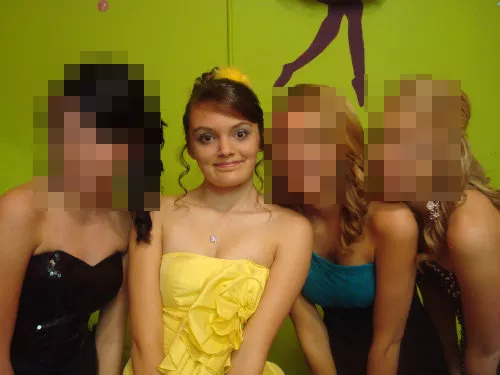 After primping, a luxury RV donated by Byerly RV in Eureka picked the girls up at the consignment shop and drove them around for photos: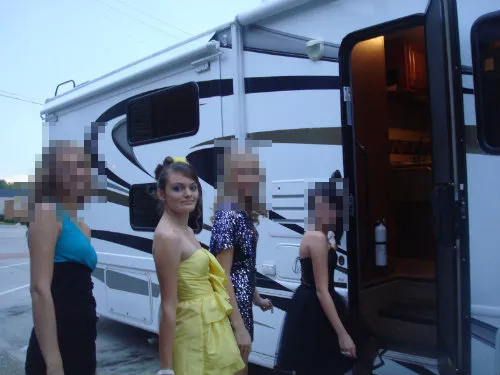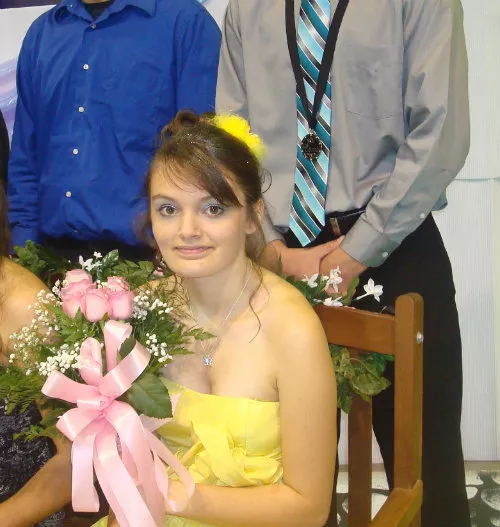 The girls spent the night in the RV eating junk food and doing "whatever it is teenage girls do."
"I think she's happier than she's ever been, I really do," says Tonya. "I'm sure there's more kids who don't feel included. You don't have to have a disability or anything necessarily wrong with you. That's just being a teenager. These girls have all kinda come together and decided, 'We're all lonely, let's be lonely together, and then maybe we won't be so lonely.'"
Though homecoming has come to a close, the Tanners hope this isn't the end of the matter at the school. Tonya says she has no interest in further punishment for the students involved in the prank, but wants the school to plan some serious anti-bullying training. She's hoping the school invites Tina Meier, the mother of the late Megan Meier, to speak to the students about the potentially tragic consequences of bullying.
"I certainly hope this isn't the end of addressing the issue as a whole, how to treat people with dignity and empathy," she says. "If it is I'll be really disappointed."