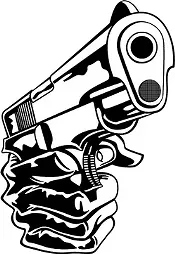 Shooting #1
went down in the Lewis Place neighborhood just before 8:30 pm, police say.
A 20-year-old black male was walking east in the
4400 block of Evans Ave
when a navy Doge Magnum started coming towards him, but stopped ahead of him near a group of 7-10 black males standing in a vacant lot.
As the victim walked past, he heard a barrage of gunshots, felt a pain in his left arm and hit the ground.
A Good Samaritan who happened to be driving by found the victim and took him to Barnes Jewish Hospital, where police came and interviewed him.
Shooting #2
was a shoot-up at the St. Louis Fish & Chicken at
5800 Page Boulevard
in Hamilton Heights, just after 9:30 pm.
A gold minivan pulled into the parking lot at that time and the driver blasted several shots into the building (but nobody was hurt).
There had been argument in the eatery a little earlier, a 22-year-old black female told cops once they showed up (presumably she was an employee). She said that a tall, heavy-set black male in his mid-thirties had gotten into an argument with another customer. When the employee asked him to leave, he threatened to come back and shoot the place up.
Which is what he did, looks like.
Shooting #3
occurred just before 10:30 pm. An 18-year-old white male was in the
3100 block of Meramec
in Dutchtown when a black male came up and demanded he empty his pockets. He handed over a wallet, cigarettes, lighter and cell phone.
But the suspect fired four shots at him, hitting him once in the lower right abdomen.
The suspect was described as a black male, six feet tall with a medium build. He looked to be in his 20s and had medium-length dreads and was wearing a red hoodie.
The victim was listed in stable condition this morning.
As always, investigations are ongoing for all of these incidents.