Remember how the University of Missouri Press decided to "modernize" itself last spring by laying off the entire staff and replacing it with a group of grad students led by an English professor? Well, to hell with that. Maybe the Press wasn't so broken after all.
Well, OK, maybe the threats of legal action helped change their minds a little, too.
Clair Willcox, the editor-in-chief whose layoff inspired a vigorous social media campaign among Missouri Press authors, many of whom he had edited, has his job back, the university announced this morning. Willcox has taken possession of his office again and is calling up authors with the good news.
"We're very excited to have Clair returning to the press as we move forward with this transition," Mizzou provost Brian Foster said in a statement. "He will provide continuity and help maintain the foundation that the press has built throughout its strong history. This is an important step in getting the press fully up to speed in the new campus environment."
Willcox's main task now will be repairing the damage that the events of the past five months have done to the Press's reputation, and to the Press itself. Currently, the Press lacks editors (aside from Willcox), a director and a catalog for next year. In addition, 58 authors have demanded the reversion of rights to 138 titles. Several of them have begun negotiations to take their work to other university presses. It's a mess Willcox will have to sort out.
Nonetheless, says Ned Stuckey-French, co-creator of the Save the University of Missouri Press petition and Facebook page, "It's a really good victory. I had to be scraped off the ceiling."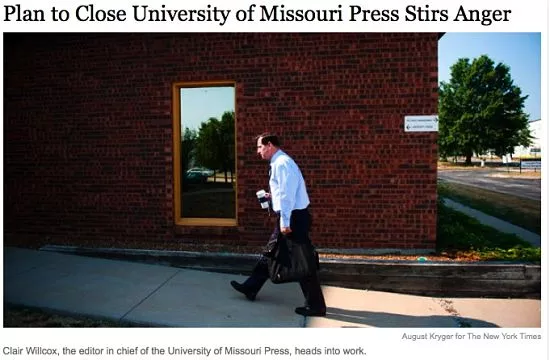 New York Times
Willcox heading to work the day his ouster made national news.
The battle began five months ago , just before Memorial Day, when system president Tim Wolfe abruptly announced that the Press was to be shut down in late June, at the end of the fiscal year. These are tough times and the university needed to start saving money, namely the $400,000 subsidy it gave the Press each year. (Although it did give the athletic department $2.6 million.) The news was a surprise to everyone, including the ten Press employees who'd had no inkling their jobs were in danger.
The announcement was met by fury and outrage among scholars and other people who care about university presses. Led by Stuckey-French, a professor at Florida State and a Missouri author, and Bruce Joshua Miller, a book sales representative out of Chicago, they began circulating an online petition that would eventually collect 5,300 signatures and set up a Facebook page.
A month and a half later, Wolfe announced that, ha ha, he'd just been kidding. The Press would go on. But it would be placed under the control of the Mizzou campus and the current staff would still be laid off. Instead the Press would become a "teaching press," run by English professor Speer Morgan and a team of grad students.
Though Morgan had been the editor of the Missouri Review literary magazine for several years, he had no experience in book publishing. But it was OK! He'd talked to people who ran other presses! Not scholarly presses, it was true, but some of them were subsidized by universities and they all published actual books! There was no need for Clair Willcox, who became the first Press employee to lose his job.
The announcement infuriated Press authors, many of whom had worked with and admired Willcox, and who also feared what the damage to the Press's reputation would do for classroom sales, their main source of revenue. What would the academic community think of a book published by a press run by grad students? And so 56 of them wrote letters to the university demanding the rights back to 133 books.
Several series editors, who worked for the Press on a freelance basis, resigned their positions. There were angry letters to the editor, an on-campus protest and even a shout-out of support by Lucinda Williams during a concert. (Williams' father, Miller Williams, had been director of the University of Arkansas Press.)
By the end of August, the university had backed down, sort of, after the Columbia Tribune published a series of e-mails that showed that Morgan had been talking with administrators about new plans for the Press as early as April, more than a month before Wolfe's announcement that the whole operation would be shutting down. Morgan was shunted off to another role within the university, far from the Press. A new advisory board would be formed. The administration would talk to the angry authors who still wanted their rights back. But Willcox was still out.
That was when several authors, including Donald Spivey, author of If You Were Only White: The Life of Leroy "Satchel" Paige, threatened to sue the university unless their rights reverted by October 8. This was also when at least one member of the new 21-person advisory committee, which includes a former longtime press employee and several sympathetic administrators, suggested that reinstating Willcox would be the best way to end the turmoil.
So now, as of this morning, Willcox is back. With an improved title and a raise. (Over the summer, he learned that Morgan had placed an ad for editors, promising to pay $110,000, $50,000 more than Willcox was making.) "I talked to Clair last night," says Stuckey-French. "He felt good."
The problem that started the whole mess, lack of funds, has been partially solved: The subsidy necessary to run the Press will come from both the University of Missouri system and the Mizzou campus.
"Public higher education is under such attack," Stuckey-French muses. "On average, public universities around the country have lost 22 percent of their state funding over the past four years. So they make cuts. It's a mess. But you can't be tossing aside institutions like the Press that are essential to the mission of the university."
Stuckey-French feels that he and the other Press supporters have learned some important lessons as well. He and Miller and some of the other supporters plan to start speaking at conferences that will be attended by both academics and administrators. "There's a need for people in academia and people who work for university presses to talk about what they do," he says. "It's the first line of defense. I'm sure there will be other attempts to close other university presses in the future."