Once upon a time
in Missouri, back in the Civil War, our governor's heart belonged to the Confederacy. But St. Louis and its mighty police force leaned Union.
So the governor and his legislator pals in Jefferson City created a state board to control us. That system is
still in place
a century and a half later.
Missourians could get rid of it if they vote yes on Prop A. It'll save everyone money. But a "yes" vote will likely cut some jobs, and will also explicitly sign away our ability to peer into the process by which police "police" themselves -- that is, see whether they punish cops who deserve it, or go light on their own.
Is it worth it? Yesterday, we rolled up our sleeves with
Brooke Foster
, spokesperson for the Prop A campaign, "
Safer Missouri
," and dug right into it.
Daily RFT
:
Why is Rex Sinquefield, the retired billionaire free-market activist, bankrolling this campaign?
This is how Rex Sinquefield will look if Prop A passes.
He does support smaller, more local government. He's never mentioned that in reference to this initiative, but I'm sure it appeals to him. And he's really, really into making St. Louis more of a first-tier city.
So this was as simple as
Mayor Slay
and
Jeff Roorda
of the police officers union coming to him and saying, 'This is really important.'
Really? The officers union? Back when Representative Jamiliah Nasheed was trying to get this done legislatively in Jeff City, the policemen didn't have her back.
Right. But they're on board now because of the things we put in. This measure protects their collective bargaining rights, their pensions, and their health care. Because those elements were added, they felt comfortable endorsing it.
How will Missouri save money on this?
The conservative estimate from the state auditor is that we'll save $4.5 million in general.
Four million of that will be saved in Jeff City and St. Louis by combining administrative and HR departments. So it will eliminate redundancies, but
without
taking cops off the streets. I don't want people to think that.
But people in Jeff City will lose their jobs, right?
I don't exactly know if there's going to be job losses in Jeff city. But once you have local control of your own police department, you don't need those HR positions in Jeff city anymore.
Rural Missourians will save $500k on Prop A
What about the folks in rural Missouri, who vote on this too? Will they save money?
Yes. Right now, all state taxpayers pay a combined $500,000 into a legal defense fund for city. So if a citizen brings a lawsuit against a city police officer, then right now, the state would have to pay for the attorney and all the damages, etc.
I understand you're focusing all your campaign energies out-state. What's the reaction been out there?

We thought they would like the tax savings. But what we're hearing is that this just makes sense to them. We've talked to a lot of sheriffs. They say they could never have Jefferson City run their police departments.
Then, when they find out that 70 percent of St. Louis voters voted yes on this in a symbolic referendum in 2008, they don't think they're forcing their will on St. Louis.
And a lot of people don't even realize we
don't
have local control.
But in reality, as we sit here today, how much does Jeff City really control our cops?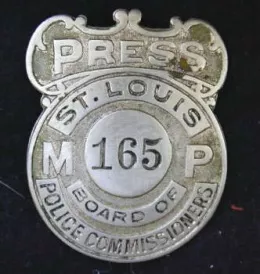 Reporters used to get actual "press badges" from the board!
The Board of Police Commissioners is appointed by the governor. One third of the city budget is the police budget -- $130 million -- and the governor has a big say over where all that money goes. And locally, we don't.
That police board you mentioned has been under fire recently for a perceived failure to oversee the department. Would the new board created by your measure be any different?

We definitely think so, because the board would be appointed by the mayor, and accountable to the mayor, to the aldermen and to the director of public safety. Who are in turn accountable to the people of St. Louis.
But the ACLU argues that this measure will make the police less accountable. It will shut down a "loophole" in Missouri law that (at least in theory) makes police disciplinary matters open to the public. How is that a good thing?
That [confidentiality] exists in every other city in the country. Typically, an investigation into a police officer is not something that public or press can go in an look at it.
Recently, I heard that at an Eighth Ward meeting, a cop stood up and said, 'I wasn't for Prop A at first, but let me tell you what happened to me.'
Whistleblowers are protected under Prop A
He had arrested guy for armed robbery. Then a couple weeks later, the guy's wife accused the cop of breaking in their house and raping her. The officer was working at Busch Stadium on the night in question, so he had 40,000 witnesses. But if that stuff gets out, it can ruin your career and your standing in the community.
Well yes, but that's how the entire criminal justice system works in America. People are publicly charged, then found guilty or they're acquitted. If it's good enough for the criminal justice system, and for Missouri law, why isn't it good enough for this measure?

That's a tough question. But our measure explicitly protects police officers from reprisal if they're whistle-blowers.
Which is why, under local control, the officers won't be pressured by the aldermen. Because if they make a whistle-blower complaint, they'll be protected.
Not that we think the aldermen would do that. I'm just saying, it's not an option.