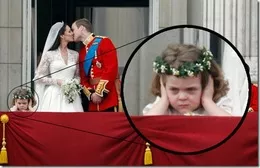 The author during playoffs.
Sometimes a journalist has gotta say the things no one else will say. So here goes nothing.
There are probably three people in the greater metropolitan region who like me, have no interest getting wrapped up in the whirlwind of disappointment that is serious Cardinalmania. But as we take on the Braves tonight in Atlanta, the city presents few alternatives.
During playoffs, what becomes of the very casual Cards fans or--dare I say it--those who really don't care for baseball at all? The obsessive recitals of batting averages and woeful tales of 1987 can feel like a prison sentence. Just keep nodding, and grinning, and baring it. Mouthing off about the Great American Pastime is guaranteed to make you look like an asshole this month.
My reviled compatriots, if you're starring down a mega-fan and looking for an out--something between enduring another tedious monologue and looking like a huge killjoy b**** to your friends/lovers--I got you. #staystrong:
1. Say something about the Premier League
"And it's Arsenal, Arsenal FC! We're by far the greatest team the world has ever seen!" The Arch just vomited.
I may not have baseball in my blood, but I do love soccer and apparently it's the one sport no one in these parts can stand. A sample conversation:
Someone: Blah blah has been batting at .218 for the last four weeks, blah blah

Me: Oh yeah I know, Arsenal really needs to pick up their D, too. When did they forget how to derail a set-piece?--BAM! [<--- that's the sound of that conversation dying].
If someone is boring you to death with their Cards talk, counter with something that may seem just as tedious to them. You'll end the conversation without [consciously] offending your companion. To a midwest sports fan, the Premier League is the ultimate boner killer.
2. Create a diversion by referencing a rival team. When you're getting pounded by an aggressive barrage of sports factoids, your best defense is another team. Nothing gets a Cardinals fan more worked up then some reference to the Chicago Cubs.
You don't even need to make an actual statement. Just innocently drop some question about the Cubs on your mega-fan. I give them 90 seconds to get so riled up, they spend their energy all at once, and don't even wanna talk about baseball anymore. Wam, bam, thank you Cubs.
3. Drop some Pujols jokes
Simple, yet oh so effective. Once the inner twelve-year old emerges, we can transition to some other topic. "Poo-holes" is the perfect segue into a conversation about your companion's latest colonoscopy. 4. "Speaking of the cardinals..."
Sesame Street
The Cardinals' weird cousin Big Bird is also a little down on his luck.
...Did you hear what Mitt Romney is trying to do to Big Bird? That slick transition might lead you to another set of social faux paus, in politics.
5. "I love the Cardinals."
The best advice? Suck it up and deal. Go Cardinals!
Sigh. In the last two decades, my mother has offered but one piece of advice about how to talk to men: always research their "sport" and ask about "the game" (even if you have no idea what the sport is or whether it's in season). Most women's magazines will tell you much the same thing. There's not much choice here--smile, nod, and be happy for someone who's happy (or happily in extreme emotional distress during the seventh inning?)
It is sound and effective advice--much better than the alternatives I've offered if you're looking to build or maintain your friendships with diehards. We haters gonna hate, but if you're gonna be a hater who hates during playoffs maybe you should just stay inside and watch something on Netflix this month. British "Fever Pitch" is streaming...