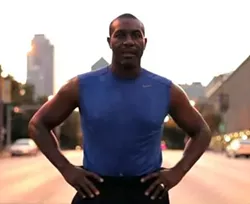 Lewis Reed via YouTube
Aldermanic President Lewis Reed steps to the line.
Aldermanic President Lewis Reed delivered the big news everyone already knew yesterday -- he is trying to oust Mayor Francis Slay from St. Louis City Hall's Room 200.
After the morning's press conference it was off to the races, digitally speaking at least. Reed's Twitter handle changed from @PresReed to @Reed4Mayor and the campaign website went live as well.
The site also served as the launching pad for Reed's first ad. And while this is not a word we like to use, Reed's first spot is definitely epic.
"This is David versus Goliath. We're going to be outspent, we know that," says 21st Ward Alderman Antonio French, who is a campaign consultant for Reed. "This is going to be powered by people. What we're really trying to do with that spot is inspire folks in the same way people in this campaign office -- the same kind of inspiration that we feel."
The campaign knew where to go for drama: Anastasis Films, the firm that produced "Here is St. Louis," the visual love letter to our fair city that went viral not long ago. They interpreted Reed's announcement pretty literally:
Bam!
People started reacting as soon as the clip went live, but we especially liked nextSTL's advice for Slay:
My semi-serious suggestion for a Slay response: the mayor recreates the video above, but walks calmly and in bright sunshine speaking about the improvements in the city (Maryland Plaza, Washington Avenue, City Garden...). Or perhaps the Mayor standing in one place with stop action showing the city moving around him. Anyway, it could be fun and a bit tongue-in-cheek. Reed is clearly media savvy. It wouldn't hurt the mayor to show that he could play along.