Doesn't that smug face make you want to kick something?
Or, Why You Shouldn't Be Ashamed to Be a Female Voter in Missouri
It's become pretty clear over the past few weeks that Todd Akin hates women. Oh, he hasn't said that in so many words -- which is actually pretty surprising since he doesn't seem to care much about the possibility of offending his female constituency, or the males who support the radical notion of female equality.
To review: Akin believes that only certain rapes are "legitimate." (The rest, particularly the ones that result in pregnancy, don't count.) Akin believes that women, particularly his female political opponents, should behave with ladylike deference during debates. Akin believes that the Lilly Ledbetter Fair Pay Act, which makes it easier for women to sue for equal pay, is a violation of free enterprise.
Todd Akin deserves to have his ass kicked by a woman. Or perhaps a band of women, the biggest badasses Missouri has to offer. Here's our list:
Belle Starr Sure, packing a six-gun to steal horses isn't the most ladylike behavior. Nor is hanging out with the James gang. But hey, Belle Starr always wore a velvet riding habit and rode sidesaddle. Which just proves that you can still be a badass while behaving ostensibly like a lady.
image via
She probably had good aim with that rock, too.
Sacagawea Historians disagree about where Sacagawea came from, what her real name was, or where and when she died, but they're sure of one thing: Lewis and Clark would not have reached the Pacific had she not joined their party in North Dakota. Sacagawea knew some of the mountains the expedition passed through, and she knew the languages spoken by many of the Native American tribes they met. She knew where to find food and how to barter for horses. And best of all, the simple fact that she was a woman showed the other tribes that the Americans came in peace. After the expedition, Sacagawea settled in St. Louis with her French husband and son. By all accounts, she didn't like it here much and either died or, like Huck Finn, lit out for the territories. But we'll claim her anyway. She played a crucial role in westward expansion. Without her, Lewis and Clark may well have gotten lost in the mountains and died, or been killed. And what have you done, Todd Akin?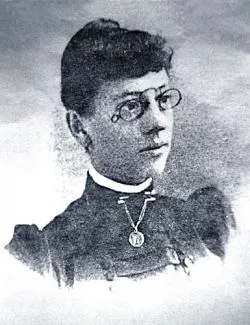 Annie wore hipster glasses before they were cool.
Annie White Baxter After eight years of working in the Jasper County courthouse in Carthage, Baxter was elected county clerk in 1890. She became the first female county clerk in the U.S. and the first Missouri woman to hold public office. Most of her constituents were pleased with her work, but not her erstwhile opponent, Republican Julius Fischer. Since Baxter was a woman, Fischer reasoned, and women didn't have the right to vote, Baxter had no business holding public office. Perhaps he was also bitter that she'd thumped him by 400 votes. In any case, like a good American, he took the matter to court. In 1891, the circuit court ruled that Baxter had won the election fair and square and deserved to hold office. To add insult to injury, they also ruled that Fischer should pay her court costs. And then-governor David R. Francis thought she was such an awesome clerk -- the best in the state, he said -- that he made her an honorary colonel on his staff and she was thereafter known to all as Colonal Baxter. Fischer's response to this is unknown.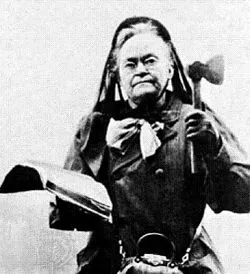 In this corner, at six feet tall and 175 pounds: Carry A. Nation! And that was her actual, legal name (though it was also spelled "Carrie"). Like a good American, she trademarked it after she got famous.
Carry A. Nation Like Todd Akin, Carry A. Nation had some unpopular opinions, in particular those concerning the use and abuse of alcohol. But she didn't just declaim them to talk-show hosts and crowds at town-hall meetings and issue mealy-mouthed apologies afterward. Carry A. Nation was inspired by a vision! (And also by bad memories of her alcoholic first husband.) Carry A. Nation would destroy demon rum and gin and beer and all other forms of alcohol, and the establishments that sold them...with a hatchet! While praying and chanting hymns! She allegedly started selling little souvenir hatchets to cover her bail whenever she got arrested, which happened pretty frequently.
Phoebe also kicks Todd's ass in the hair category.
Phoebe Couzins This is Phoebe Couzins. She was the first female graduate of Wash. U.'s law school. She was probably the first female lawyer in Missouri. But that's not why we think she could kick Todd Akin's ass. We think she could kick Todd Akin's ass because she was a U.S. marshal. It's true she inherited this position from her father when he died in 1887. But still: U.S. marshal. Just like John Wayne. Only she was for real. Anonymous Occupy Protester
Leah Greenbaum
At Occupy St. Louis Monday afternoon, accompanied by her grandchildren.
Cathay Williams Williams was the only female Buffalo soldier, a member of a regiment of African-American soldiers who fought in so-called Indian Wars in the American southwest between 1866 and the early 1890s. The Buffalo soldiers were tough. They had the lowest rate of desertion of any regiments in the U.S. Army. Like the rest of the Army, they didn't accept female soldiers, but Williams, who had laundered and cooked her way through the Civil War, was sick of playing a supporting role. So she disguised herself as a man and enlisted as "William Cathay." She served from 1866 to 1868, by all accounts keeping up with the rest of the regiment; her gender was only discovered when she had to go to the hospital with a case of smallpox. She never received a pension for her service. Of that, Todd would probably approve.
Ella Ewing Ella Ewing, who was a regular on the circus and vaudeville circuits at the turn of the last century, where she was billed as the "Missouri Giantess," stood eight feet, four inches tall. That's right. Eight feet, four inches. We're not sure how tall Akin is (his campaign bio fails to reveal that crucial bit of information), but we're pretty sure Ella had at least two feet on him. We're also pretty sure Ella wore pretty big boots, a good size for effective ass-kicking.
Celia Robert Newsom was a farmer in Callaway County in central Missouri and an asshole. He raped his fourteen-year-old slave, Celia. Multiple times. For the next five years. Celia gave birth to two children during that time. Only one of them was Newsom's. The other was his son's. Akin, obviously, wouldn't consider those cases of legitimate rape, but Celia certainly did. It pissed her off. One night, June 23, 1855, to be specific, when Newsom came into her cabin, Celia clobbered him over the head with a big stick. Then she burned the body in the fireplace. Once most of the flesh had burned off, she smashed the bone fragments on the hearth. Celia eventually hanged for killing Newsom, but her message was clear: Don't fucking mess with me.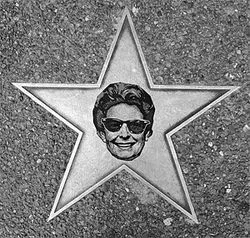 Phyllis Schlafly Mrs. Schlafly knows what it's like to be castigated for expressing unpopular views in public. (How unpopular? Well, when she was awarded an honorary degree from her alma mater Wash. U. in 2008, several thousand graduating students and faculty members stood and turned their backs to the stage.) She believes women should be subservient to their husbands and that marital rape doesn't exist, explaining, "By getting married, the woman has consented to sex." She believes that household appliances, such as the washing machine, did more to improve women's lives than anything else in the twentieth century, including better career opportunities and the right to work. Curiously, although she believes that women should be happy staying home and raising children, she herself enjoys what many could call a "career," writing books, traveling around on the lecture circuit and actively campaigning for anti-feminist causes (including, most famously, the defeat of the Equal Rights Amendment in 1973).
However -- the big difference is, Schlafly, unlike Akin, is a true libertarian and doesn't rely on the government to provide her with her bully pulpit. It's true it's not for lack of trying, but after her final defeat in a race for a Congressional seat in 1970, she built one of her own. As president of the Eagle Forum and publisher of Pere Marquette Press, she can do and say whatever the hell she wants, confident that no one, woman or man, will ever be able to shut her up.
Sisters of St. Joseph of Carondelet and the Franciscan Sisters of Mary The priests were the first to bring Catholicism to St. Louis, but the nuns, including the Sisters of St. Joseph of Carondelet, were the ones to make it stick. They built schools and made sure their charges learned, dammit, even on days when snow fell into their poorly-insulated building and they had to forage for food because the priests said they didn't have enough provisions to share. They also filled in for the priests when the men were off on missions to more distant parts of the west, leading services, performing baptisms and last rites, caring for the sick and, in general, representing Catholicism to the rest of the community. And you know what? The sky did not fall in! The St. Louis Catholic community thrived.
Akin isn't a Catholic, but he totally agrees with them about the sanctity of human life. He even once got arrested for picketing outside an abortion clinic! Which brings us to the Franciscan Sisters of Mary, recently named Best Geezer(s) by Riverfront Times. These nuns don't have time for such nonsense. They've got work to do, ministering to the sick and the poor, to homeless teen mothers and victims of domestic violence, war, riots and natural disasters. They've also, along with the other members of the Leadership Institute of Women Religious, recently been criticized by the Vatican for practicing "radical feminism," maybe the most terrifying thing Akin can imagine. So shoo, Todd, get out of their way, or they'll do much worse than swat you with a ruler.
Martha Gellhorn Akin served in the Army for eight years, as part of the Army Corps of Engineers and later the Reserves, but he never saw combat. Gellhorn, however, saw plenty of war and wrote about better than just about any other journalist, ever. She covered everything from the Spanish Civil War through World War II, Vietnam and the Six-Day War, when she was in her sixties. She also survived being married to Ernest Hemingway, who, in 1943, bitter that Gellhorn would rather cover the Italian front instead of getting drunk with him in Cuba wrote, "Are you a war correspondent, or wife in my bed?" Gellhorn's answer was clear: Two years later, once the war ended and she had a bit more free time, she divorced the bum.
Linda Bloodworth-Thomason Poplar Bluff native and Mizzou grad Bloodworth-Thomason created the TV series Designing Women and wrote most of the episodes -- including 1988's "Reservations for Eight," which contained this spectacular rant, delivered by Julia Sugarbaker (played by Dixie Carter). If words could wound, Todd would be a dead man right now.
Virginia Minor On October 15, 1872, Virginia Minor attempted to register to vote in St. Louis. Reese Happersett, the registrar, rejected her application on grounds that she was a woman. This was probably not an unexpected development, and Minor was prepared: She sued Happersett on grounds that denying suffrage to women was a violation of the Fourteenth Amendment, adopted just four years earlier. The case got all the way to the U.S. Supreme Court, which unanimously ruled against Minor. Minor did, however, get to testify before the U.S. Senate in support of women's suffrage in 1889. Sadly, she didn't live to see the passage of the Nineteenth Amendment in 1920, which overturned Minor v. Happersett.
Susan Blow Susan Blow was a serious student of philosophy, particularly of Friedrich Fröbel, who believed in combining learning and play, and inspired her to found the first public kindergarten in the United States right here in St. Louis in 1873. In her own kindergarten, Blow followed Fröbel's beliefs that "education shall encourage self-expression" and that "encouragement shall be given only to those modes of self-expression which are related to the values of human life." In other words, kindergarten teaches that classic notion that if you don't have anything nice to say, you should keep your big yap shut. This message, of course, should be delivered in the most encouraging way possible so that it sinks in. Although Akin attended John Burroughs School, his kindergarten education was clearly deficient. We're sure Blow could have taught him a thing or two. Maddy Green
Maddy Green, also known as The Madness, may be only twelve years old. But this seventh grader is already a formidable MMA fighter, considered one of the best prospects in the country. She also makes her boy opponents cry. She's small, but we're sure she can take Akin. Easily.
Claire McCaskill If it were Akin versus McCaskill in a bar fight, all our money would be on the Senator from Missouri. She's smarter, she's scrappier, and she'll do what it takes to win and doesn't give a rat's ass about being ladylike, because, clearly, Akin doesn't know what it is to be a gentleman. Fair's fair.