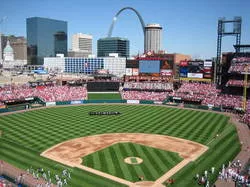 So clean you could eat off of it.
Hooray! Busch Stadium, the home of our beloved Cards, has been named the cleanest stadium in America. But before we get to the accolades, a word about the judging entity.
The website that rolled out the rankings is known as UFE.com a.k.a. Urine Feces Everywhere. It pontificates about the possibility of urine and/or feces being present in drinking fountains, on cell phones, gym equipment, handbags -- everywhere! They hashtag their tweets #UrineFecesEverywhere.
In short, UFE = WTF. But we digress.
The site says it's written by "writers, researchers, and healthcare professionals dedicated to opening the public's eyes to hidden health concerns that we are exposed to in our daily lives." This crack team claims to have gone to all 30 stadiums around the country to observe the state of the bathrooms and the behavior of relieving fans. And then they turned stool pigeon on 'em.
Hilariously, our old friends at Wrigley Field (Home of the Double-Barrel Blowjob Backstop) got the absolute worst rating for having trough urinals filled with beer cups and urinal cakes and, presumably, urine and feces. A whopping 79 percent of male Chicago fans did not wash their hands. Eew, Chicago, you nasty! From the UFExperts:
Our staff lightheartedly refers to attending a Cub's game as committing UFEnasia. UFEnasia is the deliberate or non-deliberate act of exposing yourself to the Urine and Feces of many different unsanitary Wrigley Field Fans. The fans are not the only culprits in this study however. Out of all 30 MLB stadiums, the staff at Wrigley ranked very poor as well. There were many times that a vendor (both mobile and stationary) lacked appropriate handling gloves whiles serving food and beverage. These vendors would take money from fans, and then take that same hand to pass them their food or drink...not good.
We here in St. Louis, however, had nothing to hide and got the only A-rating in the country with a score of 91.
What can you say about Busch Stadium when you consider that it was the only park in our survey to get an "A" rating? One hundred percent of the women wash their hands in the restroom, and the men aren't too shabby when it comes to restroom hygiene, either. Busch Stadium is one of the few parks that the UFE Team would feel comfortable shaking another fan's hand.

St Louis is a baseball town with supportive fans and some great history to back it up. The restrooms are clean and the attendants do a great job of keeping the restroom stocked up and ready for the crowds.

We know that Busch stadium has had some food safety issues in the past, but those concerns are different than what the UFE staff is looking at when we make our ratings. UFE can tell you that the fans are doing their job, which is something a health inspector has no control over.

On the negative side, the restrooms could use hands-free toilets, paper towels, sinks, etc., but so could every other stadium in Major League Baseball. The UFE Team did find it interesting that there are touchless restroom facilities in the more expensive parts of Busch Stadium, including full-time bathroom attendants. Don't feel slighted, though, Cardinals fans; when we spoke to the attendants in the exclusive parts of the stadium, they informed us that the fans walk right past them (the attendant) after using the facilities without washing their hands on a regular basis. So peer pressure doesn't seem to affect the well-to-do as much as it does the fans in the cheap seats. Take a relatively new park, a competitive team, and fans that are very clean and friendly and what do you get? The third generation Busch Stadium that the entire UFE staff said they would gladly return in a heartbeat!
Great job team! So can we go back to talking about UrineFecesEverywhere.com?
Perhaps our favorite part about this site is that they are inviting their fans to be contributors. Now that's a resume entry we would very, very much like to read.
Researcher and contributing writer, Urine Feces Everywhere

Contributed daily urine and feces-related content
Seeded urine and feces content on popular social media platforms (Facebook, Twitter, Pinterest)
Found urine and feces everywhere
Washed hands a lot