Photo by Jennifer Silverberg
State Rep Jamilah Nasheed: Big supporter of the local police control ballot initiave
This November, Missourians will decide whether to release
St. Louis Metropolitan Police Department
from state control -- a vestige of Civil War politics -- and allow the city to oversee its own cops.
Few people have wanted this more than State Representative
Jamilah Nasheed of the 60th district
, who has
tried twice
to get it done legislatively in Jefferson City to no avail. Now that it's going directly to voters, she supports it -- with a small caveat.
We caught up with her briefly on the phone last Friday.
Daily RFT
:
Is this ballot measure the same as your two bills?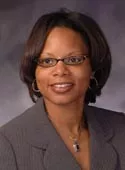 Rep. Jamilah Nasheed
: The language is a tad different, because you have a provision that seals records. It's harder to get certain personnel and discipline records with a
Sunshine Law Request
made to the police department.
From what I've heard about it, I'm not in support of that. But I do think we shouldn't throw the baby out with the bath water.
This is as close as we've ever gotten to local control for St. Louis.
The ACLU of Eastern Missouri clearly thinks that's a reckless position. They're telling citizens to vote "no" until there's some guarantee of openness with the records, and until there's some kind of public oversight, like a civilian review board.


You have to understand activists. I do, because I used to be one.
There's no middle ground for them. No compromise. The ACLU pushes transparency across the board, on anything. I disagree with them in this case. I believe those issues can be resolved once we bring it home.
I've been told this is more or less a civil-rights issue in your mind.
There are only two cities in the whole country [St. Louis and Kansas City] that don't control their police department. You're talking about the commission structure built on evil and hatred.
It came about because you had a Confederate governor,
Claiborne Fox Jackson
, who didn't want the pro-union police officers to protect black folks in the Civil War. As a result of that, there was a commission created, and the person that controlled the board of commissioners was [confederate sympathizer]
John Brownlee
.
You're talking about a system that goes back 150 years, and a governor who didn't want black folks to have any protection.
It needs to be destroyed.