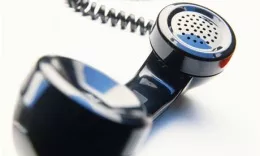 Kip Lackey is suing Gary Layton for prank calls of "revolting human bodily functions"
By July 3, 2012,
Kip A. Lackey
of Cottage Hills, Illinois, could no longer stand it. The calls had become too much.
So he called the authorities to complain. A Madison County Sheriff's deputy drove out to Lackey's home to write a report. (
Read it here
)
Lackey recounted a weird story: Back in November 2011, he was all set to buy a chair from a man he apparently knew named
Gary R. Layton
for $300. But when Layton raised the price to $400 at the last minute, Lackey refused to pay it.
The spurned seller began to harass Lackey on Facebook, so Lackey blocked him. That's when the phone calls started.
"Numerous" calls a day for the last eight to ten months, Lackey told the deputy -- from a number listed as "private" -- in which the caller either pressed touch-tone buttons to play a tune, or simply let a religious tape play.
The complainant described himself as a religious person who counsels people. He suspected Layton was prank-calling with Bible readings just to mock him.
Lackey said the calls were causing him "a lot of stress," because his sister was very ill with cancer. He didn't want to miss a phone call in case she took a turn for the worse.
Lackey also reported that he's disabled and confined to a wheelchair, and had recently injured himself trying to get to the phone.
The deputy checked Lackey's caller ID and it showed six calls that same morning.
Then the phone rang.
Daily
RFT
could not find a record of any such criminal charges against a Gary Layton.
However, on September 20, Lackey sued Layton in Madison County Circuit Court (
read the complaint here
). He accused him of making one to eight prank phone calls a day (some after 10 p.m.), five to six days a week, for eight months.
Some of them, Lackey claims in his petition, involved:
Disgusting and revolting human bodily functions, including but not limited to belching

Other than belching? What else is there?
Oh
.
We have many other questions, but so far, Lackey's attorney --
Robert Elovitz
of Edwardsville -- has not returned
our
phone calls.
We promise, Mr. Elovitz: We will not
prank you
.