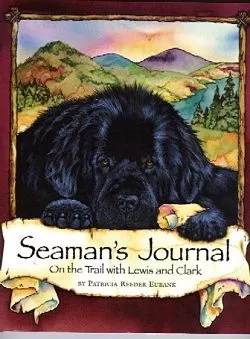 Here's your weekly St. Louis bestseller list for the week ending September 23, as compiled by the St. Louis Independent Booksellers Alliance and based on sales at Left Bank Books, Main Street Books, Pudd'nhead Books and Subterranean Books.
When we talk about the Lewis and Clark expedition, we talk a lot about the major figures: the two lead explorers (and Lewis's mysterious, tragic death three years after their return), their guide Sacagawea and, to a lesser degree, her husband Touissant Charbanneau, their son Pompey and Clark's slave York. Very little has been said, however, about the furriest member of the expedition: Lewis's Newfoundland Seaman. That is, until now. Seaman's Journal by Patricia Reeder Newbank tells the story of their journey from St. Louis to the Pacific and back through the dog's point of view.
Also of local interest on the list this week: the return (in paperback) of Eric Greitens' The Heart and the Fist, and the debut of Ghosts of St. Charles by Michael A. Henry. Because Halloween is coming and we have to be prepared!
Adult Bestsellers:
1. The Perks of Being a Wallflower by Stephen Chbosky 2. No Easy: The Firsthand Account of the Mission That Killed Osama Bin Laden by Mark Owen and Kevin Maurer 3. Gone Girl by Gillian Flynn 4. The Malice of Fortune by Michael Ennis 5. The Heart and the Fist: The Education of a Humanitarian, the Making of a Navy SEAL by Eric Greitens 6. Ghosts of St. Charles by Michael A. Henry 7. The Night Circus by Erin Morgenstern 8. Witches Tarot by Ellen Dugan and Mark Evans 9. Why Did Jesus, Moses, the Buddha, and Mohammed Cross the Road?: Christian Identity in a Multi-Faith World by Brian D. McLaren 10. Telegraph Avenue by Michael Chabon
Children's/YA Bestsellers
1. Count to Sleep St. Louis by Adam Gamble and Joe Veno 2. The Name of this Book is Secret by Pseudonymous Bosch 3. Monstrous Beauty by Elizabeth Fama 4. Clueless McGee by Jeff Mack 5. Hold Me Closer, Necromancer by Lish McBride 6. Even Monsters Need Haircuts by Matthew McElligott 7. Goddess Girls #1: Athena the Brain by Joan Holub and Suzanne Williams 8. Seaman's Journal: On the Trail With Lewis and Clark by Patricia Reeder Eubank 9. Enclave by Ann Aguirre 10. Bear Has a Story to Tell by Philip C. Stead and Erin Stead