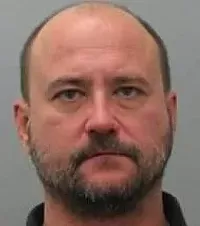 We can only imagine that Todd Combs thought he was being the "cool" stepdad when he filled a cooler full of beer and took his twelve-year-old stepson and several teenagers on a barbecue last month along the Meramec River.
Apparently the group was having a fun time, too, because Combs later
went on a run
to refill the cooler, according to prosecutors. But the good times would end tragically when Combs' stepson Christopher Marks disappeared into the churning brown water.
It was Combs who discovered the boy's body downstream several days later while searching for him on a jet-ski. Christopher had been drinking prior to his death on August 5, though it's unclear how much he had consumed.
At a press conference yesterday, St. Louis County Prosecutor Bob McCulloch expressed frustration that he could not charge Combs with a more severe crime -- such as manslaughter -- but "the extent of time the child's body was in the river and the condition at the time the body was recovered prevents a determination of the level of alcohol caused by ingesting alcoholic beverages."
Instead Combs faces seven counts of the misdemeanor crime of endangering the welfare of a child that are punishable with a sentence up to a year. In addition to providing Marks with alcohol, prosecutors say, Combs knowingly provided drinks to six teens, each of whom is fifteen years old.