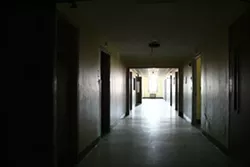 Nick Zulauf
Obviously already haunted.
When Daily RFT first wrote about a collection of amazing photos from inside the closed Forest Park Hospital, it quickly became the week's most popular post. What's intriguing and eeire about urban explorer Nick Zulauf's photos is the careful documentation what got left behind. A child's trike. Rows of beds still made up with sheets and blankets. A pair of eyeglasses.
Click here for the full slideshow of the abandoned Forest Park Hospital.
But beyond mere voyeurism, we also heard from readers who wanted to know why the pictures show so much medical and electronic equipment. Zulauf found laptop computers, heaps of old phones, televisions, heart monitors, surgical lights, scales -- even a bone saw.
Couldn't some of that medical equipment be useful? We endeavored to find out.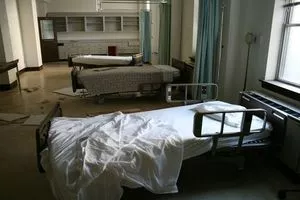 The hospital was formerly run by Medline Industries, which sold the property to the Saint Louis Zoo when the hospital fell on hard times and had to be closed. The site is expected to become an expansion for the zoo. A Medline spokesperson deferred to the zoo's press people. The zoo also declined to comment on the state of the property, saying they need to "close on this transaction" before saying anything. A follow-up message asking what stage of negotiation they're in was not returned.
Zulauf himself, who is an IT manager, says he once did IT for a hospital and to his eye, nothing looked very salvageable in terms of the medical supplies. The only thing that stood out to him were the mattresses, which he reasoned could be sent to a homeless shelter.
We also spoke to the owner of an electronics recycling business that specializes in lab and medical equipment who agreed to give us his opinion so long as we didn't ID him.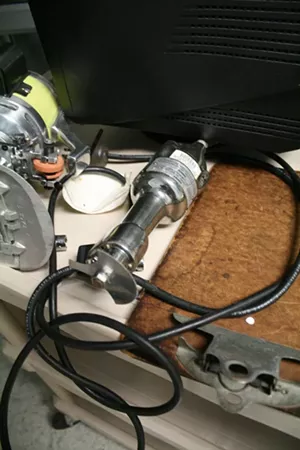 Nick Zulauf
Bone saw?
He agreed with Zulauf that nothing looks particularly valuable to him from the photos.
"From the pictures it looked like a lot of things were taken, probably more the higher end stuff that has resale value," he says. "But from a recycling standpoint there was still a lot left."
He hypothesized that most of the things that look like fine, functional medical equipment could be broken, like the mechanized bed frames (Zulauf did photograph one with a little sign attached that reads "broken"). But he says his company could recycle nearly everything that's left -- the fans, lights, ballasts from light fixtures, the phones, printers, clocks, scales, monitors, cords and TVs. He estimated that he'd probably break even on a job like this, if not lose money. Basically, it's not as though there is hundreds of thousands of dollars worth of waste going on.
"Other than keeping it out of the landfill, there's not a lot of value there," he says.
We'll update if we learn anything more.
Click here for the full slideshow of the abandoned Forest Park Hospital.