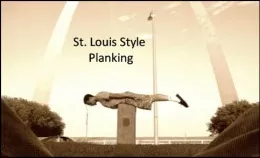 The kids are NOT all-right
St. Louis' beloved landmarks (The Arch, Old Courthouse, etc.) can be the backdrop for all kinds of occasions:
Bombshell legal verdicts
,
presidential election speeches
,
world series wins
.
"Planking."
Here are five silly human feats performed in front of St. Louis landmarks.
5. PLANKING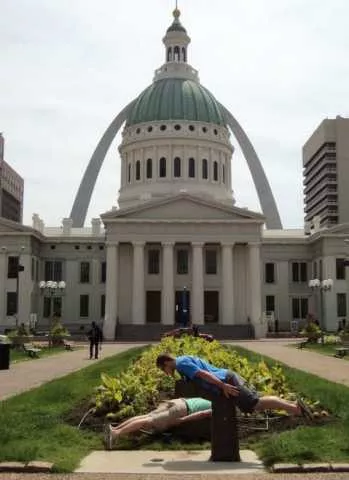 What
-ing? Maybe Daily
RFT
is getting old, but "planking" makes no sense to us. We're not angry about it, per se. But we're getting close.
4. SIGN-SPINNING
Yeah, again -- we don't get it,
unless
the sign has a huge arrow pointed at the spinner that says: "I AM POINTLESS"
3. THE WORM
Is this feat, performed outside of Busch Stadium, a "trick" or "dance move"? Well, she's wearing flip-flops, and they don't fall off. We'll call it a "trick." Or at least, "more impressive than what they've done with Ballpark Village."
2. SOMERSAULTING
This was done for charity. In that spirit, we can say we feel bad for the people involved.
1. HOOPING
This silly human trick was actually kind of cool, for the first minute or so. Then the Middle Eastern music started to terrify us. Next time, hoop to something more wholesome, like
Chuck Berry
! Er, wait....