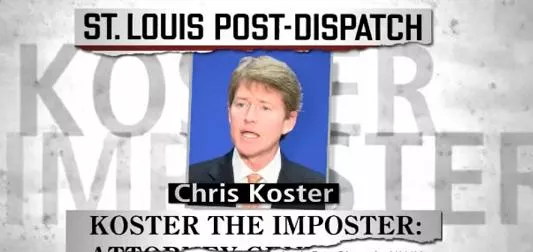 Missouri Attorney General Chris Koster cannot be trusted. That's the gist of a television ad entitled
"The Imposter"
that began airing last week across the state.
See also: Missouri Democrats Unhappy With Koster's Brief Over Health Care
Ed Martin Pledges to Thwart Obamacare From His "First Minute in Office"
Mo. Attorney General To Release Dome Plans Despite Rams' Objections
The 30-second spot paid for by the Iowa-based
American Future Fund
claims that Koster "sided with DC politicians" and "refused to sue to stop the job-killing federal healthcare bill." A closer look at American Future Fund, however, may leave you wondering who the real "imposter" is.
American Future Fund calls itself a conservative, free-market "advocacy group" which allows it to claim nonprofit status with the IRS as a "social welfare" agency or 501(c)(4). In reality, though, AFF behaves more like a political hired gun that can use its nonprofit status to sidestep federal election laws.
Today nonprofits such as AFF, Crossroads GPS and Americans for Prosperity are upending campaign finance, spending even
more money than super PACs
on television ads for the 2012 election cycle. Moreover, nonprofits don't have to disclose their donors, the way that PACs must, allowing anonymous contributors to flood these "social welfare" groups with cash.
Shadier, still, is the way AFF went about registering as a "nonprofit." As
ProPublica reported
last month:
We found that some groups said they would not engage in politics when they applied for IRS recognition of their tax-exempt status. But later filings showed they spent millions on just such activities.

On the very day in 2008 that the American Future Fund mailed its application to the IRS, checking the box for "no" on whether it planned to participate in politics, it uploaded an ad to YouTube praising a Republican senator. The group reported more than $8 million in political spending in 2010.
Equally dubious are the charges AFF makes in its attack ad against Koster. It's unclear which DC politicians Koster is "looking out for" in the ad. And though it's true that Koster did not sue to stop Obamacare, he did file a "friend of the court" brief in Florida questioning the constitutionality of the bill. It's also a bit of a stretch to say that the federal healthcare bill would be "job killing." As the nonpartisan
FactCheck.org has pointed out
, Obamacare would probably lead to a net surplus of jobs.
Daily
RFT
tried to reach out to American Future Fund to ask it about these claims and its background as a nonprofit. No one from the group returned our call. Meanwhile, Koster's campaign spokewoman, Rachel Levine, says "The Imposter" ad proves that Republican challenger Ed Martin "can't punch his weight" and needs the help of out-of-state money to back his campaign.