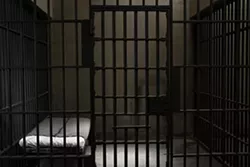 Attorneys for eight current and former inmates of the St. Louis Medium Security Institution have just filed an amended complaint that sheds new light on allegations of an ongoing fight club.
The federal class action suit names five guards for their involvment, and charges both current and former directors of public safety and corrections commissioners with failing to address the problem.
"The allegations are an atrocity," says attorney Ryan Smith, who is representing one of the plaintiffs. "This is just the tip of the iceberg in terms of the abuse these people have been suffering."
Two of the named guards, Dexter Brinson and Elvis Howard, were caught on surveillance tape supposedly setting up a fight between two inmates. The pair are currently facing criminal charges. Since those charges have gone public, more inmates came forward, describing what Smith characterizes as "human dog fighting."
After the jump, a very brief rundown of what each inmate (current and former) is alleging, according to the new complaint.
The complaint describes everything from fights arranged by guards, to denial of medical treatment to injured inmates, to beatings doled out by the guards themselves:
Derrick Rodgers: beat up by fellow plaintiff Thaddeus Dumas for guards' amusement; get contusions, bruises, and a black eye; did not receive medical treatment
William Owens: observed fellow plaintiff Zachary Ward beaten by defendant Officer Jeffries; forced into fight with unknown inmate as punishment for threatening to report Jeffries; Jeffries and Howard watch fight as if it was "a spectator sport"; Owens did not receive medical treatment
Thaddeus Dumas: forced to beat up fellow plaintiff Derrick Rodgers, subsequently threatened and denied meals for "snitching" on guards
Frankie Edwards: Beaten frequently by unknown inmates while guards watched, did not receive medical care
Dwayne Shelton: Multiple incidents when guards brought other inmates to cell for purpose of beating Shelton, did not receive medical care
Jared Williams: Asked by guards to participate in "gladiator-style" fight; beaten after refusing, resulted in concussion and eye injury
Zachary Ward: Beaten by Officer Jeffries while on suicide watch
October Smith: Subjected to various forms of "sadistic force and inhumane treatment" including being beaten with guard radio, choked, maced; nurse tried to keep him in infirmary to prevent further correction officer abuse
Eric Gray: Instructed by guard to assault fellow inmate, beaten when he refused
Jonathan Smith: Beaten on six occasions either by guards or by inmates acting as guards' proxy
Read the whole document on the next page.
The suit goes on to say that because jail administrators knew about the fights, they're at fault for failing to take steps to stop the practice. Former corrections commissioner Eugene Stubblefield, current corrections commissioner Dale Glass, director of public safety Eddie Roth, and former director of public safety Charles Bryson are all named as defendants for failing to protect inmates or discipline guards.
"Yes, they're inmates," says Smith of his clients. "Nevertheless they're human beings and deserve to be treated humanely."
After the suit was first filed in mid-August, the attorneys hoped to have the clients still being house at MSI moved to avoid retaliation -- so far they've been unsuccessful.