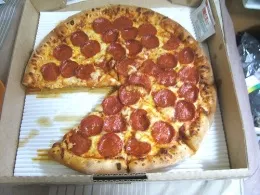 Someone in King's Oak had to make alternative dinner plans last night.
Updated at 6:30 pm with charges, mugshot and SLMPD's corrections to their original account.
Last night just before 10 p.m., a Papa John's pizza deliveryman -- described as a 29-year-old black male -- rolled into the 4900 block of Wise Avenue in King's Oak (just southeast of
St. Louis University High School
) to deliver some food.
According to police, a red Dodge Ram pickup pulled up behind him, and "two black males" got out.
They approached and told the driver to get lost. They hijacked his rented orange 2012 Dodge Challenger and sped away, and so did the pickkup.
But only 10 minutes later, cops spied what they believed was the same pickup near the
intersection of West Florrisant and Pamplin
, on the border between the North Pointe and Walnut Park West neighborhoods.
SLMPD
Shawn Vaughn, 17, arrested after fleeing vehicle investigators believed was involved with earlier carjacking.
The pickup tried to zoom away, but only made a few blocks south, where cops were waiting with spike strips. The pickup blew out its tires. One suspect fled on foot, but the other -- 17-year-old
Shawn Vaughn
-- was taken into custody.
He's been charged with two counts of Assault/Attempted Assault on a Law Enforcement Officer related to that short chase.
David Marzullo
, SLMPD's spokesperson, said that "Investigators have not yet determined this individuals involvement in the carjacking."