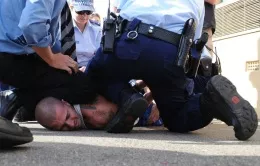 Beefed up patrols in hot spots have not caused any spillover in the city of St. Louis, says criminologist
With the city
set to spend
a quarter of a million dollars on "hot-spot policing," we started wondering: Does the underlying theory even make sense?
Cops
used to think of crime
as a sort of balloon: If you apply pressure on one small area, it just spreads out. So what's the point?
But that's not the effect hot-spot policing has
already had
in the city of St. Louis over the last six months or so, says
Rick Rosenfeld
, professor of criminology at the University of Missouri - St. Louis.
Rosenfeld would know: As the criminologist-in-residence at City Hall, he's closely monitoring an experiment that the city police have undertaken this year.
To boil it down: The crime analysis unit at the SLMPD used mapping software to isolate several spots in St. Louis where serious gun-related crimes cluster. In half of those spots, patrols have remained the same.
But in the other half -- including spots in or near Gravois Park and O'Fallon Park -- they've beefed up patrols and pushed "self-initiated activity" -- a fancy term for officers doing pro-active stuff, like chatting up shop owners and poking their heads in vacant buildings. In short, the cops are no longer simply reacting to calls after a problem has alrleady started.
It's too early to boast in much detail, Rosenfeld warns. But so far, he says, they've seen a reduction in the enhanced-patrol areas -- and interestingly, no spillover to adjacent neighborhoods.
He explains to Daily
RFT
:
When you think about it, wherever there's enhanced patrol, the police have to get there by coming through the adjacent areas. Would-be offenders don't know the technical boundaries of the hotspot. So it appears that [they] are erring on the side of caution and reducing activity in the more general area.

We're reminded of
Adam Gopnik
's
recent piece in The New Yorker
on mass incarceration, in which he argues that shrinking crime may not be the gargantuan task it seems:
"Crime is a routine behavior; it's a thing people do when they get used to doing it." And therein lies its essential fragility.... Conservatives don't like this view because it shows that being tough doesn't help; liberals don't like it because apparently being nice doesn't help, either. Curbing crime does not depend on reversing social pathologies or alleviating social grievances; it depends on erecting small, annoying barriers to entry.

So far, at least in our city, that seems to be true.
Neither the mayor's office nor the SLMPD is willing to give out any specifics on how they're going to spend that $250,000 on hot-spot policing, except to say that it'll mostly be used to cover officer over-time.