HSMemes.com
A meme from the Ladue Horton Watkins H.S. page, posted around the time of the "list."
Martha "Missy" Combs recalls finding out this way: While cramming for a math quiz near the end of her junior year at Ladue Horton Watkins High School, she got a tap on the shoulder. It was a friend informing her that Combs made the "senior list."
Combs knew exactly what this meant. The year before while at cheerleading practice, she'd seen a "list" go around about an older female classmate.
"They did the ABCs on her. A-B-C-D-E-F-G, all saying bad things about her," recalls Combs. "I was thinking she was dating a senior boy at the time, that's probably why they did that to her at the time. Little did I know."
Combs debated just going home, but ultimately decided to stay and make her way to the "commons" where the list was being passed out.
"You see floods of paper all around, people passing it from person to person," she recalls.
To this day, Combs keeps a copy of the list in the form of a cell phone photo, five years since she first read it. She has it memorized. She won't allow Daily RFT to reprint it, but reads it aloud. The 2007 Senior List calls out five girls, named by initials only, and slams them in rhyme. Two verses mock girls for being too fat, one girl gets it for not getting a prom date, a couple are said to be too ugly, two girls are referred to as being sluts, and one is denounced for being Jewish.
"I was definitely not somebody who flew under the radar, but I was never mean to anyone," says Combs of her high school reputation.
According to anecdotal evidence, the "Senior List" varies from year to year, but is traditionally written by the boys about the senior girls. Sometimes it's passed out on the senior's last day of school. The point seems to be to take some of the more popular girls down a peg or two.
For Combs, the list had lasting effects. She says she only stopped thinking about it two years ago.
"I kind of felt like everybody hated me for a long time," she says. "I wish I would've known better."
Combs is speaking out now after a Ladue mom made national headlines denouncing the school district for allowing the list to become an unofficial tradition for what some estimate could be as long as 30 years.
Ruth Ahlemeier has been going back and forth with the school for months, ever since her own daughter called her in hysterics on May 11 of this year after finding her name on the 2012 Senior List.
"There are never any consequences. That's why this continues," says Ahlemeier. "This is bullying, plain and simple."
Ahlemeier also won't allow a reprint of the list, under advice from her attorney, but allowed Daily RFT to read it with the names blacked out. The 2012 version names seven graduating senior girls and taunts them (sometimes in rhyme) for everything from their sexual promiscuity, to being an "alcoholic" and getting DUIs, to having bad teeth, to -- mystifyingly -- turning a boyfriend gay. The language is pretty sexually explicit.
Two junior boys -- according to Ahlemeier, the members of a school sports team -- were disciplined for their role in writing the list. Ahlemeier was initially not satisfied with that, demanding that other boys involved be disciplined and those who shared cell phone video and pictures of the girls discovering the list on social media be punished as well.
Since then, Ahlemeier has shifted the focus of her ire from the authors themselves to the school. She says the administration initially told her daughter there was "nothing much the school can do" about the list. That's been directly refuted by the school, but Missy Combs' recollection is similar -- she says she complained immediately and was also told there was nothing to be done. Ahlemeier says that reveals a culture of sexual harassment in the school that is not being addressed.
"They're concerned about their jobs and looking bad," she says of what she calls the administration's "limp-wristed" response. "The school told my daughter 'You need to learn how to get used to it.'"
According to correspondence shared by Ahlemeier, the school was definitely aware of the list's existence, one administrator calling it a "negative tradition." But they argue that because discipline handed down to the two boys involved was harsh -- they lost privileges and leadership roles that will carry over into their senior year -- the case is closed. In one letter, an administrator wrote that sometimes the list is disseminated at graduation, and they were taken by surprise when it appeared at the May 11 lunch hour, and couldn't have prevented it.
In one letter from the district, the heart of the matter is addressed here:
The school district was aware of the Senior List practice and had taken efforts to prevent it. It was passed out at a time and location that was entirely unexpected. It is also extremely difficult to prevent student behavior in its entirety if the students are willing to risk the consequences attendant to the behavior. It is the district's intention to increase preventative measures for the next school year and to ensure that the consequences for such conduct ... will be sufficiently severe that students will not take that risk in the future.
Not good enough, says Ahlemeier, who after going back and forth with the district all summer decided to go to the media and file a civil rights complaint. She has an attorney and on Wednesday filed a complaint for discrimination based on sex in a federally assisted education program under Title IX with the Kansas City Office for Civil Rights. She's hoping the feds will take up the complaint and do a more thorough investigation into how hard the district has been trying to stop the list.
But will it work?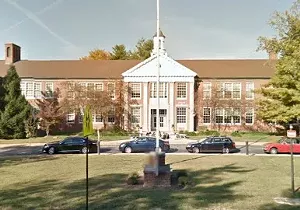 Ladue Horton Watkins High School
Jerome Dobson, a civil rights and employment litigation attorney, says the case places two forces at odds: The boys' right to free speech and the school's obligation to provide a "hostility-free environment" in which to learn.
"This list certainly strikes me as an act of hostility toward the female students, especially the female students listed on it," he says.
He does, however, express some skepticism on whether or not a federal court will be interested in taking up the complaint.
"The plaintiff would have a pretty significant hurdle to overcome to get the federal court to do something about that," he says.
In her final correspondence with the school, Ahlemeier received a letter detailing the school's anti-bullying efforts, and promising to meet with small groups of seniors and juniors in an effort to stop the end-of-school-year behavior, and an all-class junior meeting "to discuss this particular form of bullying this fall."
Ahlemeier dismisses the school's response as lip service and says without sterner consequences the list will never stop.
Combs, who is now in her final year at Mizzou studying political science, says she's come to terms with her list, even forgiven the boys she knows were behind it. But she's glad that someone is finally attempting to stop the tradition for good.
"You can't really stop people from saying bad things about you. But that shouldn't be something you have to deal with at school and deal with that being passed around, and when the administration sees that they don't even stop it."