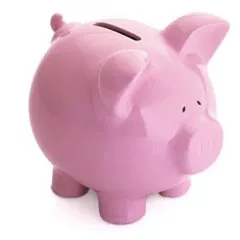 Baron Calmese, Jr., knows no shame.
Baron Calmese, Jr.
, is a 29-year-old with a looong criminal record.
By contrast, his four-year-old nephew -- who inherited, let's say, different genetics -- has some foresight. Up until July, he had a plump piggy bank going, in which he'd collected $500 in coins and cash.
Calmese -- the grown-ass man -- was living with his sister
in Spanish Lake
at that time, and asked if he could borrow some quarters from the nephew's piggy bank.
His sister permitted him to take $2. Instead, he took it all.
When County cops caught up with him, guess what he told them he did with the loot?
"Man, I bought a piece of ass and some heroin."
Not very sound investments, Mr. Calmese. Oh also you're being charged with felony theft.
Asshole.
h/t
Post-Dispatch