Daily RFT was tickled by New Yorker's recent timeline of "A Conservative History of the United States". St. Louis' own Phyllis Schlafly got a thoughtful shout-out for bashing airing her concerns about high-efficiency light bulbs:
2011: Fluorescent bulbs cause epilepsy: "...broken C.F.L. bulbs allegedly cause migraines and epilepsy attacks."--Phyllis Schlafly
But otherwise, New Yorker's history overlooks Missouri's many right-of-center experts. Daily RFT decided to go further, with "A Brief History of the Universe According to Todd Akin", our favorite native son and self-avowed history buff.
Intelligent design, courtesy of God.
4000 B.C.: God tears Eve from Adam's rib and wisely gives her the vaginal mechanisms "to try to shut that whole thing down" in cases of legitimate rape.
1000 B.C.: God authors the Bible, with America in mind (He plans ahead!), as "an entire blueprint for the way civilization can be structured" (from a 2009 anti-Obama ad). Justice was swifter with public stonings.
500 B.C.: Sodom and Gomorrah fall due to excessive gayness. Countless other empires follow: "From a practical point of view, to preserve our civilization and society, it's important for us to preserve marriage. Anybody who knows something about the history of the human race knows that there is no civilization which has condoned homosexual marriage widely and openly that has long survived."
0 A.D.: Christ born, already stoked about America and Todd Akin's campaign for Senate.
Before 1620: Liberalism is born in Europe, out of a hatred of God: "At the heart of liberalism really is a hatred for God and a belief that government should replace God."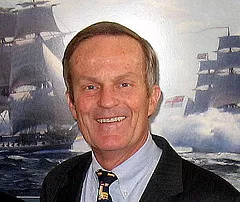 Sailing away to a better tomorrow and a freer market.
1620: Pilgrims came to America to flee the "unbiblical" socialism of Europe: "They came here with the idea that after trying socialism that it wasn't going to work. They realized that it was unbiblical, that it was a form of theft, so they pitched socialism out. They learned that in the early 1620's." (from a 50 minute speech on the House floor about the history of Thanksgiving)
1776: The framers of the constitution prohibit the establishment of a state religion, but still encouraged all to celebrate the birth of Christ.
1836: Despite anachronistic communication barriers, a patriotic Congress sends Davy Crockett all the back-up he needs: "Could you picture Davy Crockett at the Alamo looking at his BlackBerry, getting a message from Congress: 'Davy Crockett, we support you. The only thing is, we are not going to send any troops.' I am sure that would really be impressive to Davy Crockett." (Akin's 2007 explanation for opposing a nonbinding resolution to limit troop levels in Iraq)
1948: The Universal Declaration of Human Rights--written by Eleanor Roosevelt, among others, that designated the rights to basic survival, health care, and education as "human rights"--doesn't actually happen: "There was once a country that doesn't exist right now that had the idea that everybody had a right to certain basic things. For instance, if it gets really cold outside, you should have a right to housing because if you don't have a warm place to live, so you'll freeze to death. So they said everybody should have a right to housing. And if you don't have food to eat, you'll starve to death. So everybody should have a right to food. ... And um, this idea, that because it's essential for your survival to have housing, or food, or education or a job or health care, uh, to say then or to assume that it's a right is to make the same assumption that was made by the Union of Soviet Socialist Republics. We used to call 'em "commies" when I was younger." 1954: The phrase "one nation under God" is added to the Pledge of Allegiance to "drive the liberals crazy." The addition renders the rest of the words irrelevant:
1988: God asks Todd Akin to run for Missouri House of Representatives. He faithfully complies.
21st Century (pre-Heatocalypse 2012): Winter, spring, summer or faaalll, just don't caallll it climate change: "I mean, we just went from winter to spring. In Missouri, when we go from winter to spring, that's a good climate change. I don't want to stop that climate change, you know. So, and who in the world would want to put politicians in charge of the weather anyway? What a dumb idea." (on the House floor during a hearing on climate change)
2008: For the first time ever in American history, freedom is under siege and our equal opportunities for success are undermined, with the election of Barack Hussein Obama, "a complete menace to our civilization.":
2009: God intervenes to kill Obamacare in the Senate. Eventually it passes, but hey, sometimes God needs to test the faithful: "I believe, as we stand on the abyss tonight, that those Americans who are wont to turn to God for answers that this is a time to be doing that. To ask for his help, supernaturally, so that we don't make this fatal step pushing our nation into socialized medicine."
2012: In an elaborate conspiracy, GOP party bosses and liberal media move to eliminate Akin from the Senate race he is sure to win: "The people of Missouri chose me to be their candidate. And I don't believe it's right for party bosses to decide to override those voters."
God tells Akin "you're my homeboy": "I believe in God, and I've asked him for forgiveness for what I've said. I've asked the people of Missouri for forgiveness, too. For anyone serving in a position of public trust, those are the only two authorities that should matter -- as a Christian, God is the ultimate authority. As a public servant, voters are who I answer to."
2100: A day Todd Akin has been awaiting for some time: "Some of the models [from a congressional presentation on climate change] said that we're going to have surf at the front steps of the Capitol pretty soon. I'm really looking forward to that." Kalabunga!