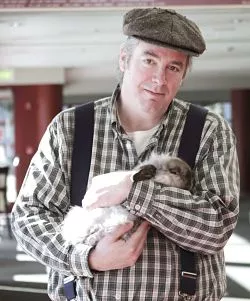 Tell me about the rabbits, George.
Terror and silence reign in the Villanova neighborhood this week. Residents report that the rabbits, who usually hop merrily through the shrubbery, have been turning up dead.
The matter is of grave enough importance that it was featured on KTVI-TV (Channel 2) news and picked up by Gawker. (It's fair to say this is how many St. Louisans first heard of the mysterious rabbit deaths.)
So what is causing this horrible, horrible plague? And why does Gawker give a shit?
Could it be genuine concern for rabbits? Could it be morbid fascination with mass bunny extermination? Or just amusement at reporter George Sells' attempt to add some flair to the story: He begins the segment crouching in the bushes under the Villanova neighborhood sign.
Or could Gawker just fail to resist the opportunity to speculate about aliens among us?
Whatever the reason for the story's appearance on Gawker, here are the facts:Lots of rabbits live in Villanova, a small subdivision that straddles the city/county line, also bordering on Shrewsbury and Mackenzie. Suddenly, three weeks ago, these rabbits started turning up dead. One resident, interviewed by Sells, reported finding eight rabbit corpses on his lawn.
Villanovans are mystified. Several blamed West Nile virus (when in doubt, it's always a good disease to blame), but their speculations were dismissed by the Missouri Department of Natural Resources once Sells alerted the agency to the problem. The DNR officer Sells talked to believes, in his gut, that a human is to blame.
But who? Could it be the guy who used to spread out seed for the animals? Could it be a mysterious third party who contaminated the seeds?
There are so many questions! No wonder Gawker was so fascinated. There is only one way to get to the bottom of this: Revive a dead rabbit for questioning. Surely that's possible?
Here is Sells' full report: