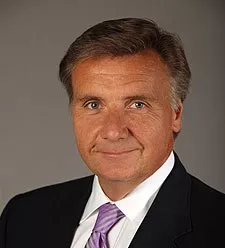 Image via
KMOV anchor/reporter Matt Sczesny got decked on the East Side
Yesterday, KMOV Channel 4 anchor/reporter
Matt Sczesny
was standing in the village of Alorton near East St. Louis (probably his first mistake).
He and his photographer were on assignment right across the street from Alorton police department.
Then some guy walked up and asked if he could pose a question to Sczesny.
Sczesny said sure.
So the guy clocked him.
They struggled briefly, but the dude ran off apparently when he heard the photographer approaching. According to the channel's own web story, the attacker didn't take anything. (
Knockout game
?)
This is an example of unprofessional reporting. Not on Sczesny's part, who is a total pro that we've long admired. We're glad he's OK.
No, we mean the assailant who wanted to turn the tables and interview Sczesny. It's pretty frowned-upon in our industry to say to someone, "Hey, could I ask you a question?" and
then unload on their face.
That's one of the many reasons we like Sczesny: He would never do that.
Carry on, Sczesny.
Nobody hire that other guy. Worst intern EVER.