St. Louis-style pork steaks; let's agree to agree!
John Cunningham
of Jennings now
stands accused
of fatally blasting his uncle with a shotgun early Monday morning after a heated debate: Were the cuts of meat they were preparing to grill "pork steaks" or "pork chops"?
Our city has a
history of food-related murders
, including one just last week involving
a bag Cheetos
. But pork steaks are a
staple of St. Louis-style barbecue
, and thus widespread.
So hey, neighbors: Let's maybe get on the same page about f--king pork steaks.
Clearly, Cunningham and his uncle,
Lessie E. Lowe
, were not, and here's what can happen, according to the
Post-Dispatch
(who
broke
the story):
John Cunningham, accused "pork steak" murderer
Cunningham said [the cuts] were pork steaks, police said. Lowe disagreed.

After the argument became physical about 1 a.m. Monday, the two had to be separated by someone else in the home, police say. Cunningham went to another part of the home, grabbed a shotgun and shot Lowe, police said.

Lowe died later at Barnes-Jewish Hospital. Cunningham, who was correct about the meat, was taken into custody. [Emphasis added by us]

First of all, the
PD
deserves some kind of award for that part in bold font. More importantly: What made Cunningham correct? What is a pork steak?
We called
Joe LeGrand
, co-owner of
LeGrand's Market
in St. Louis Hills. He says it's pretty simple.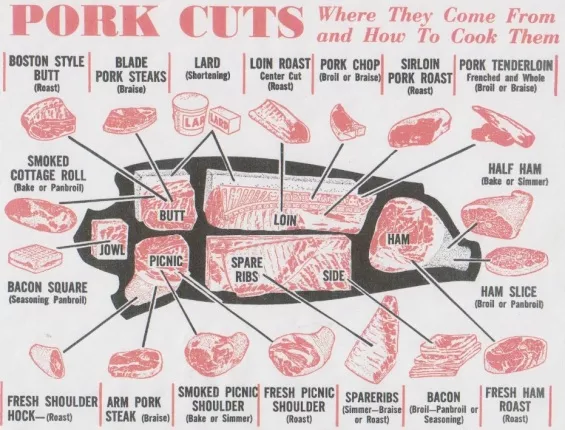 Image via
Pork steaks come from the pig's shoulder
A
pork steak
is cut from the pig's shoulder (which is also confusingly known as a "pork butt," because it apparently
used to be shipped
in barrels called "butts"). In a cow, the analogous cut would be chuck roast.
A
pork chop
, however, is cut from the back loin. In a cow, the analogous cut would be T-bone.
"People tend to overcook pork," LeGrand says. But pork steaks contain more fat and take longer, so they tend to turn out better for most folks (because people accidentally cook them correctly).
So whether you're grilling or arguing with a family member, the concept is the same: Do not overheat.