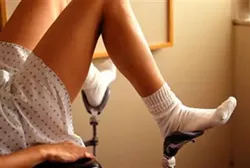 Government so small, it fits in your uterus.
It's official: In Missouri, employers, insurance companies or anyone else involved in a woman's health care can legally refuse to cover the Pill.
In a not-so-surprising move, both houses of the Missouri Legislature voted to override Governor Jay Nixon's veto of Senate Bill 749.
SB 749 gives any "employer, health plan provider, health plan sponsor, health care provider, or any other person or entity" the ability to refuse to provide coverage for contraception, abortion, or sterilization. Naturally, SB 749 does not allow employers or insurers to deny coverage of male sterilization (because there ain't nothin' in the Bible about vasectomies).
Nixon had vetoed the bill in July on the grounds that opt-outs exist under current law for employers who don't want to provide contraceptive coverage to their employees. This bill though, Nixon said, gives insurance companies the unprecedented power to deny coverage to people, even when they and their employers want it.
"The bill would shift authority to make decisions about access to contraceptive coverage away from Missouri women, families and employers - and put that power in the hands of insurance companies," Nixon said in July. "That would be a step backward for Missouri."
The St. Louis Archdiocese--one of the bill's biggest supporters--released a statement celebrating the legislature's narrow 2/3 majority vote.
"Today's override is a powerful pro-life statement, one that gives us hope that conscience rights will be extended to all U.S. citizens," the statement read. "We thank the people of Missouri for your prayers and for your tireless efforts to protect our first, most-cherished freedom."
The House secured the override with not a vote to spare: 109-45, an exact 2/3 majority.
Seven Democrats crossed party lines to vote in favor of the override. STL blogger @MO_Snark made a handy chart:
In case you didn't notice, they are all white males with various degrees of greying hair/hairline recession.
The ever-clever Richard Callow, of the public relations firm Public Eye, had a helpful suggestion for the bill's most vocal opponent, Rep. Stacey Newman.

Identifying a woman's uterus on a chart might be easier said than done for 80 percent of the Missouri legislature. Of the 197 members of the House and Senate, only 46 are women. Voting "yes" to override Nixon's veto were 102 Republicans and 7 Democrats in the House and 24 Republicans and 2 Democrats in the Senate.
Voting "no" (ie against overriding the veto) were 44 Democrats and 1 Independent in the House and 1 Republican and 5 Democrats in the Senate.
The deciding vote was cast by Republican Rep. Chris Molendorp--the only member of his party to vote against the legislation when it appeared before the House in May. According to reports, Molendorp, an insurance agent, was visibly upset after this vote and did not join his fellow Republicans for a celebratory press conference.
Not surprisingly, a majority of those opposed to the legislation were women:
Voting "yes" to override Nixon's veto were 18 women, and 117 men between both houses.
Voting "no" were 26 women and 25 men between both houses.
St. Louis' own State Senator Robin Wright-Jones was one of a handful of legislators who did not vote.
Nevertheless, Daily RFT was surprised by the number of women in the legislature who did support the override. Although the convenient national bra-burning narrative tells us male legislators across the country are making decisions to limit women's reproductive rights without their input, nearly as many women in the Missouri legislature supported SB 749 as opposed.
18 (Republican) ladies--about 40 percent of the female reps in MoLeg--didn't mind ceding their reproductive rights to the will of employers and insurance companies.
Some more reactions from across Twitter:
From Susan Montee, Peter Kinder's Democratic opponent for Lt. Governor.
From Peter Kinder, ever a friend to the ladies of St. Louis and East St. Louis alike.

Linda Black (one of three women to speak on the floor), chair of the Missouri Democrats Right to Life coalition:
From labor activist and AFL-CIO field organizer @cathysherwin:

Rep. Stacey Newman, on the floor via @ProgressMO:
For continued coverage and commentary on employer opt-outs for vasectomies, follow Leah Greenbaum on Twitter @lgreenbaum1214.