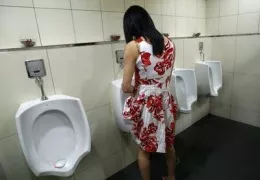 Will Maplewood allow this to happen?
As things stand, the City of Maplewood cannot deny somebody a job, or housing, on the basis of race, color, religion, national origin, sex or disability. Duh.
Tuesday night, the City Council took another step toward adding "sexual orientation" and "gender identity" to that list of reasons for which it can't discriminate. This ain't remarkable; if the bill finally passes after its third reading on Sept. 25, it will render Maplewood the seventh municipality in St. Louis County to add such protections, according to
PROMO
(a state-wide LGBT advocacy group).
What caught our eye, however, was the nature of Mayor
James White
's opposition to the bill. He apparently fears that the bill will offer legal cover for an all-too-common scourge on society: The convicted male sex offender who decides to dress like a woman and gallivant through the women's shower room at the public swimming pool, ogling all the naked ladies.
Maplewood Mayor James White
We weren't able to attend the meeting when Mayor White made these statements, but
Doug Miner
of Patch.com was there. He
filed this report
yesterday:
White paraphrased what the ordinance could do, per a legal opinion from the city attorney.

"Under this ordinance you can have a male by birth, he could be a convicted sexual pervert, he could, under this ordinance as written, go into the women's bath area at the pool and simply by saying, 'I feel like I'm a woman today...'

If anyone tried to move this individual out of the women's bathroom, out of the shower stall, as he goes by opening all the curtains, saying he was looking for something open. If one of our residents...push this person out of this...bathroom, under this ordinance they could be convicted of a hate crime," White said.

We at Daily
RFT
recognize that sometimes, a well-intentioned ordinance can be so broad that it has unintended -- and very bad -- consequences. We don't know if that's true in this case, because we're not attorneys.
So we called Mayor White to hear his thoughts and to ask him for a copy of this legal opinion from his city attorney. His e-mailed response:
I have talked with the City Manager and he indicated we will not release this document based on Client and Attorney confidentiality.

PROMO's Andrew Shaughnessy
We did get a hold of
Councilman Tim Dunn
, who introduced the bill partly because of a personal connection: His niece has had a sex-change operation.
Dunn insists his ordinance would not offer a legal shield for peeping-toms.
"If the guy makes it out of the pool bathroom and my wife is in there, they may be able to prosecute what's left of his body," he jokes. "I think the system -- the police, prosecutors and judges -- can handle it."
Andrew Shaughnessy
, PROMO's regional field organizer here in St. Louis, tells us he's heard arguments like the mayor's before, in the
debates
over a similar
non-discrimination bill in Springfield
.
"It's an argument used to spread fear," he says. "LGBT people use restrooms appropriately, and will continue to use them appropriately long after this bill passes."