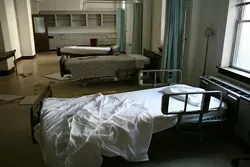 Nick Zulauf
The post-apocalyptic world of Forest Park Hospital.
When Nick Zulauf arrived at Forest Park Hospital -- closed since May 2011 -- he says he saw a lone police officer at the entrance, seemingly there to keep out the riffraff.
Click for a full slideshow of the abandoned Forest Park Hospital.
Zulauf says he asked if it would be alright to take some pictures of the otherwise abandoned 567,000-square-foot building, and the cop said that was fine. Zulauf may have failed to mention that he meant pictures of the inside of the massive hospital.
"You really can't get in through any of the external doors," he says. "I found kind of a round-about-way behind an overgrown area. There's a little storm grate. It goes right into this basement."
The hospital -- once the home of a nursing school, an emergency room, a psychiatric wing, and a maternity ward -- struggled financially for years before the doors closed for good. Now, it's slated to become an expansion site for the St. Louis Zoo.
Though a handful of psych patients and office space lessees were still on the premises as recently as March 2012, Zulauf -- an IT manager by day who's been an "urban explorer" for ten years -- found the place deserted.
Armed with his camera, Zulauf captured some truly amazing images, a sample of which are just after the jump. In some corners, he found what looked like the aftermath of a hasty evacuation. In others, the look of a fully functional hospital, as if a gaggle of nurses and patients could come wheeling around the corner at any minute.
"It's a little creepy because there are still things on. Things are buzzing, things are beeping," says Zulauf. "The water still runs."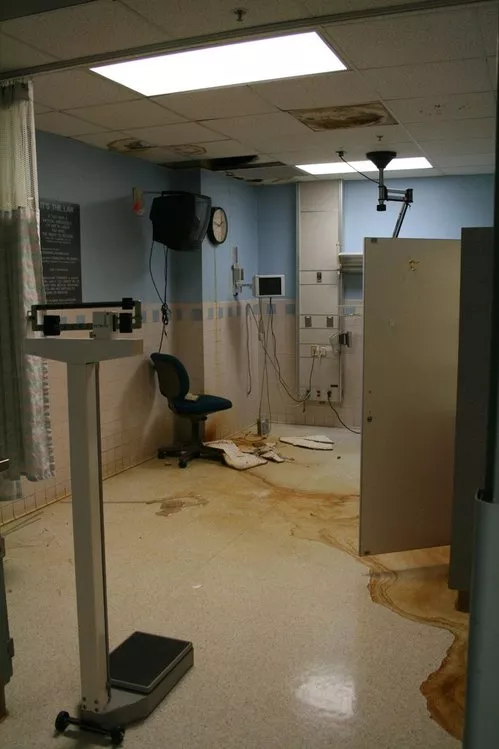 [image-9]
Check out the whole series here.
The albums are actually from three separate visits, one of which he made with some fans of the pictures after he posted the first batch to Reddit late last week. On principle, though, Zulauf says he doesn't share how he gets into these abandoned spaces and has a leave-no-trace approach to exploring them.
"The first half an hour for me is all thrill," he says. "After that it's like, 'Why? Why is all this stuff still here? Why have these buildings been left behind?"