football on Saturday, and for awhile it looked as if it was going to be a bright start to the future. For roughly 40 minutes -- maybe even 45 -- the Tigers played the
close. Last year's
champions looked every bit as fast and scary as we had all believed they might, and yet Mizzou faced them down.
The defense was stout, holding the high-powered Georgia offense in check, generating a couple of takeaways and forcing the Bulldogs off the field on third downs. Pretty much everything you could hope for, honestly. The offense didn't look nearly so good, but they matched Georgia point for point.
James Franklin
and the rest of the Tigers didn't look stunned by the Bulldogs' defensive speed, even with Jarvis Jones running roughshod all over the Mizzou offensive line. The results weren't always great, but the Tigers never looked overwhelmed. The acquitted themselves admirably, in fact.
For 40, maybe 45 minutes the Missouri Tigers played tough against the Georgia Bulldogs, and proved they could stand up to an elite team. In fact, I would hazard to say for 40, maybe 45 minutes on Saturday night, the Missouri Tigers showed they could very well beat the Georgia Bulldogs. And then the Missouri Tigers decided to change gears and prove they could beat the Missouri Tigers, too.
It was, ultimately, a game of mistakes by the Tigers, and a few missed opportunities along the way. At no time did Missouri ever look outclassed by the talent level of the Bulldogs, but a few poor plays (and some rather questionable decisions, I think), were the undoing of the Tigers. Everything unraveled late, making the score look lopsided, when in reality it was an evenly matched affair for the first three quarters.
From the beginning, though, I never liked the Tigers' gameplan on offense. You're going to hear a little noise being made locally about Mizzou not trying harder to get the ball into the hands of Dorial Green-Beckham, considering his reputation as the Next Big Thing and playmaking skills, but I'm not so worried about the Tigers failing to throw the ball to a guy playing in his second college game ever. Don't get me wrong; I think the Tigers should make an effort to utilize him more in the coming weeks, but I'm not going to fault them for not forcing the issue in this particular game.
Okay, okay, I will admit: one catch for five yards is just ridiculous. The guy is a monster in waiting. Get him the effing ball. But, enough of that.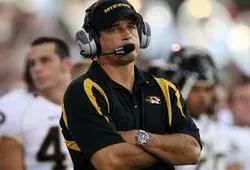 What the hell kind of gameplan was that, Gary?
However, I
am
going to fault the Missouri coaching staff for their approach to the Bulldogs' defense as a whole. The playcalling was too cute by half, I thought, with the Tigers continually going to pass plays, throwing in trick plays, and just generally trying to misdirect the Georgia defense, when a more direct approach would have worked far better, I believe. I'm not sure if
Gary Pinkel
and
David Yost
thought the best way to beat the speed and aggression of the Georgia front was a ton of trickeration type plays, but that seemed to be the way they went. Plus, leaning on James Franklin's passing abilities just isn't a good idea, particularly when you have a defense much more vulnerable to what he can do with his legs.
Mizzou was playing without its top running back, but even so they have one of the most dynamic, dangerous ground attacks in all of college football. And, considering the defense the Tigers were going up against -- i.e. a Georgia defense with an insane pass rush but vulnerable to the run -- it seemed like a perfect direction to go. Heavy with the run, lean on the ground game, force the Bulldog defense to stay home and open up the passing game. Attack their weakness with your strength, and force them into a tough position.
Instead, the Tigers went pass heavy almost immediately. I think the plan of attack was to give Georgia what they weren't expecting, perhaps, and try to use their defensive aggressiveness against them. Unfortunately, playing to your opponent's strength rarely works, even if they don't see it coming. Particularly when you aren't nearly as adept at that form of attack.
There have been a few times over the years, particularly since Yost replaced
David Christensen
as offensive coordinator, that I've thought the Tigers have, for lack of a better term, outsmarted themselves. Too cute and too clever in the playcalling, too eager to go fancy and break out the gadget plays in every situation. I like to call it
Mike Martz
Syndrome, when an obviously intelligent coach manages to work himself and his team into a hopeless knot by trying to prove just how smart he is. (It could also be termed La Russitis, but only in the case of bullpen usage issues.) When your team is strong where the opposition is weak, exploit that. Exploit it until they force you to do something else. Don't get overly clever, thinking you're going to force a top-level pass rush off their game by passing a lot. It doesn't work that way.
The worst part of it was, the Tigers actually had success running the ball, when they did so.
Marcus Murphy
averaged better than seven yards a carry, and
Kendial Lawrence
went over five per. The problem was, that was on six carries for Murphy and just eight for Lawrence. The team's top two running backs carried the ball a combined fourteen times. That's...insane.
The only Missouri runner who really didn't see any success was James Franklin, who picked up just 25 yards on 20 carries. It's a little tough to really blame Franklin for his failings, though, when the gameplan gave him zero shot to successfully run the ball. Empty backfield sets rarely equal successful running plays. Shocking, I know. If the Tigers are going to win, they're going to have to hand the ball off 30 or 40 times a game. That's all there is to it. You know that whole Keep It Simple, Stupid thing people like to throw out there? Well that's the Mizzou offense with James Franklin. No tricks. No double crossing routes. No empty backfield looks with five receivers out wide. Run a frigging wishbone if you have to, guys. Just simplify. Ugh.
"Riddle me this: what play would no one ever, ever call in this situation, on account of it being completely insane?"
And then, of course, there was the fake punt. Of all the mistakes made on the field, all the poor decisions made by Franklin, and all the poor choices made on the sidelines by the coaching staff (or up in the booth, as the case may be), none loomed so large as the fake punt. It might even need to be capitalized: the Fake Punt. Down four points, the Tigers tried to run a fake punt play, with the snap going, not to an up player with a chance, but to the punter, who then tried to rush for a first down. Early in the fourth quarter, with roughly 14 minutes remaining, down just four points, from their own 35 yard line, needing 11 yards for the first down, the Missouri Tigers tried a fake punt, with their punter taking the snap. He got three yards. It was perhaps the single most inexplicable call I have ever personally witnessed on a football field. If it were to come out today that Gary Pinkel suffered a mild stroke during the game, just before calling the fake punt, I would be not only unsurprised, but slightly relieved.
All of it added up to a game which just fell apart for the Tigers late. Physical errors, bad plays, big mistakes, and horrible playcalling do not add up to winning football. Particularly not when playing an opponent of Georgia's quality. And yet for three quarters, in spite of a gameplan that appeared to have been drawn up by
The Riddler
, Mizzou looked like a team that could hang with the Bulldogs.
The score looks like a rude welcome to the best conference in college football for the Missouri Tigers. The game, though, looked like a team plenty good to compete who just couldn't figure out their identity. It was frustrating. Maddening, even. And yet the Tigers never looked overmatched.
Well, except by themselves, that is.