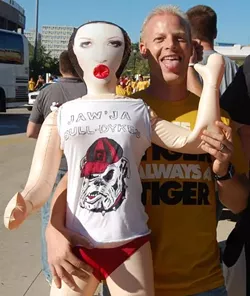 Photos: Hunter Woodall
A blowup for a blowout? Sure.
Open-container laws went unheeded Saturday in Columbia as football fans began tailgating as early as ten hours prior to the 6:30 p.m. kickoff of Mizzou's first SEC conference game.
By late afternoon, the parking lots surrounding the stadium were a sea of gold and black, sprinkled with a bit of red from visiting Georgia fans.
"Real nice set up here, that's for sure," commented Don Moore, a University of Georgia fan, who traveled nine hours with his family to attend Saturday's contest. Moore said Columbia tailgating stacked up favorably to other SEC schools.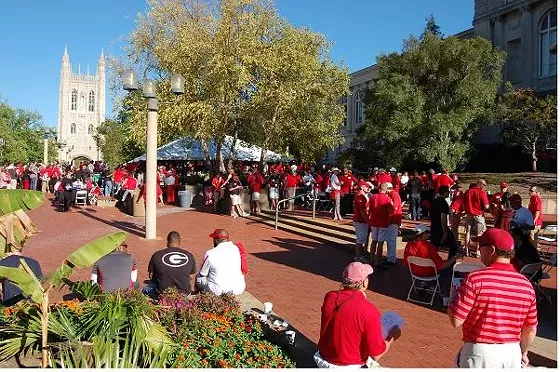 The UGA Alumni Association rented out Lowry Mall for their own pre-game party.
Kinch Jones, a resident of Park Hills (near Farmington), told Daily
RFT
that since he's been attending Mizzou games since 1976, he's never seen tailgating begin so early in the day at Columbia.
"Kid's like to go where there's a winning tradition," Jones said.
If tradition dictates that SEC fans dress up for games (with men wearing dress shirts and ties and women donning sundresses), then the majority of Mizzou fans didn't get the message. Seersuckers and bow ties were few and far between.
Zachary McKenzie, a freshman at Mizzou, came to the game in full body camouflage paint with two of his friends.
"We gotta rep it out, it's our first game in the SEC," McKenzie said.
Err, okay.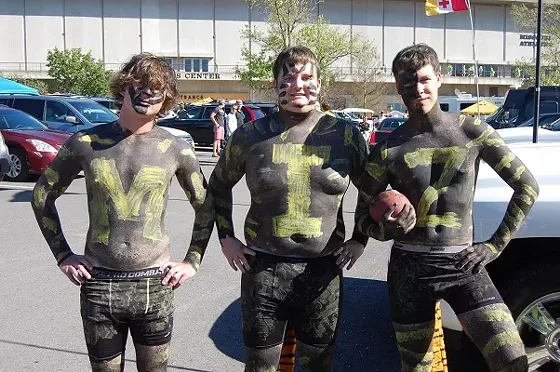 Freshmen Zachary McKenzie, Alex Connor and Zach Stevenson "rep out" the SEC.
Then there was the classy Mizzou fan (who declined to give his name) walking around the stadium with a blowup doll dressed in a UGA shirt emblazoned with the words: "Jaw-Ja Bull-dykes."
It was Georgia, though, that had the last laugh. The Bulldogs blew the game wide open in the fourth quarter, trouncing Mizzou 41-20.