For a magical convention, meet me in St Louis in 2016.
If life in St. Louis is better than it was four years ago, it still ain't got nothin' on the summer of 1916--the last time we hosted the Democratic National Convention.
You might remember that in 2010, St. Louis was a finalist to host the convention that brought 35,000 people to Charlotte, NC this week for the pointlessly symbolic act of nominating Barack Obama to be the Democratic candidate for the November election. Politicos even said St. Louis might've been the Dems direct runner-up to Charlotte.
But alas, it wasn't meant to be and here we are this week with our lightly trafficked roads and below-capacity hotels. Mayor Francis Slay told the Post-Dispatch this morning that he hopes to lure the Democratic National Convention to St. Louis for 2016.
In another universe, here's what might've happened if the DNC had chosen the Gateway City this year.
McCaskill: I am so glad the convention wasn't in St. Louis!
1. Claire McCaskill would've had to acknowledge that she's a Democrat who agrees with a number of Obama admin policiessomething she's been hesitant to do in right-leaning Missouri during election years. ...like her oft-maligned support of "Obamacare". She skipped the convention in Charlotte this week to campaign at local universities and in red territory, where she rarely mentions Obama's name. But if the DNC had been hosted in her home state, McCaskill would not have been able to ignore her party's convention. She probably would have been given a speaking role and the inevitable photos with Obama and other high-profile Dems would've wound up in her opponent's attack ads. Ya dodged a bullet, Claire.
via Google Maps
A beautiful traffic map of downtown St Louis on Thursday.
2. Getting anywhere downtown would've been a real b*%$#. Highway closures, road blocks, and security checks were the norm in Charlotte this week. If the DNC had chosen St. Louis they probably would have held convention events at the Peabody Opera House or more likely America's Center Convention Complex downtown. That would've meant Market Street and parts of the 64/40 would've been off-limits. Would've also been tough to pull off a home game against the Brewers tonight.
3. Big money. On the flip side though, for a week of shitty traffic, Missouri might've been $150-200 million the richer. At least that's how Charlotte is expected to fare, according to CNN.
4. Defense industry awkwardness. This line from Bill Clinton would've fallen flat in the city that houses Boeing's defense division.
They want to actually increase defense spending over a decade $2 trillion more than the Pentagon has requested without saying what they'll spend it on.
As
Boeing execs in Hazelwood, Mo continue to fret over the effect budget sequestration
might have on their operations and jobs here, criticisms of the industry might've been a 787 Dreamliner-sized awkward turtle.
5. Things would have gotten ugly downtown when we apparently ran out of snacks this week. See: Argument About Cheetos Leads to Fatal Stabbing in Downtown St. Louis
At least we know Bill Clinton prefers Lays.
Read on for ideas about working "vagina dentana" into the DNC.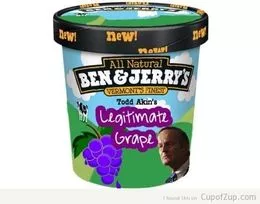 DNC snacks?: Ice cream for everyone!
6. Opportunities to keep beating the Akin horse. Not that anyone could predict the amazing gift that Todd Akin gave Claire McCaskill and the Democratic Party last month, but hosting the convention on Akin's home turf would've been a good way to keep ripping on the congressman of "legitimate rape" infamy. Almost every speech at the DNC made reference to Akin and furthered allegations that Republicans are waging a "War on Women", so it's hard to imagine how Dems might've exploited Akin's idiocy further. Maybe delegates could've played a few games of pin-the-teeth (ie the mechanism that may "shut that whole thing down") on-the-lady-parts between speakers? Or pin-the-foot-in-Todd-Akin's-mouth?
When St. Louis hosted the Democratic National Convention nearly 100 years ago, women's rights were also front and center. The year Woodrow Wilson accepted the Democratic nomination for president, his all-male conventioneers were greeted by a dramatic demonstration from the nation's suffragettes. Women lined up along the route delegates and politicians had to take to get from their hotels to the Coliseum. Thousands of women, dressed as goddesses in yellow sashes and parasols, stared down the men along Locust Street between 12th and 23rd streets. Women were finally granted the right to vote nationwide in 1920.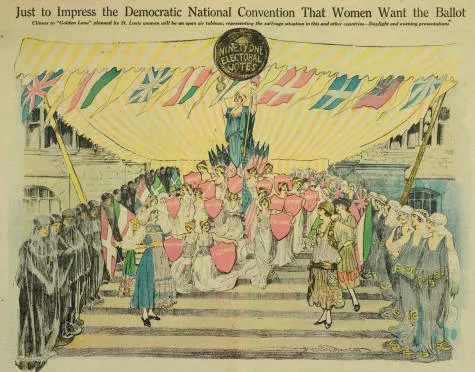 St. Louis Post-Dispatch, June 11, 1916 via Missouri History Museum
Suffragists created a dramatic tableau on the steps of the old Art Museum on Locust. The Spirit of Liberty stood at the top of the stairs, with women in white representing states in which women had full voting rights. Women in gray represented states with only partial suffrage, and women in black mourning garb represented states with no vote for women.
We think Sandra Fluke and Elizabeth Warren looked better on stage at the DNC, but it's an inspired idea for the pro-choice protesters who greeted Republicans dressed as vaginas in Tampa.