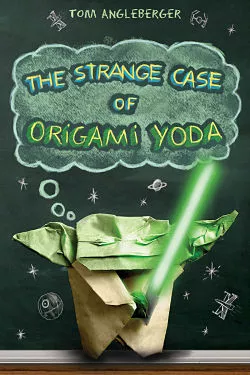 No St. Louis connection -- we just liked the cover.
Here's your weekly St. Louis bestseller list for the week ending August 26, as compiled by the St. Louis Independent Booksellers Alliance and based on sales at Left Bank Books, Main Street Books, Pudd'nhead Books and Subterranean Books.
This week, we find ourselves in a State of Wonder (incidentally the title of the number-one adult bestseller). For the first time in months and months and months, Fifty Shades of Grey is a Gone Girl (number three): It didn't crack the top ten! Who is The Light Bringer (number five) to whom we owe this One Amazing Thing (number four)? To the combined efforts of Darth Vader and Son (number two)? To a bunch of Tough Cookies (number eight) who created some Unlikely Friendships (number ten) in a bookstore war To End All Wars (number six)? One Last Thing Before I Go (number seven): I can't figure out how to work Venetia Kelly's Traveling Show (number nine) into the celebration, but it should be mentioned, too.
Adult Bestsellers:
1. State of Wonder by Ann Patchett 2. Darth Vader and Son by Jeffrey Brown 3. Gone Girl by Gillian Flynn 4. One Amazing Thing by Chitra Banerjee Divakaruni 5. The Light Bringer by Chris DiGiuseppe and Mike Force 6. To End All Wars: A Story of Loyalty and Rebellion, 1914-1918 by Adam Hochschild 7. One Last Thing Before I Go by Jonathan Tropper 8. Tough Cookies: Leadership Lessons from 100 Years of the Girl Scouts by Kathy Cloniger 9. Venetia Kelly's Traveling Show by Frank Delaney 10. Unlikely Friendships: 47 Remarkable Stories from the Animal Kingdom by Jennifer S. Holland
Children/YA: 1. Titanic: Voices From the Disaster by Deborah Hopkinson 2. Dark Companion by Marta Acosta 3. Count to Sleep St Louis by Adam Gamble and Joe Veno 4. Anna Dressed in Blood by Kendare Blake 5. Last Rite by Lisa Desrochers 6. Summer of the Gypsy Moths by Sara Pennypacker 7. Out of My Mind by Sharon M. Draper 8. A Boy Called Dickens by Deborah Hopkinson and John Hendrix 9. The Strange Case of Origami Yoda by Tom Angleberger 10. Miss Peregrine's Home for Peculiar Children by Ransom Riggs