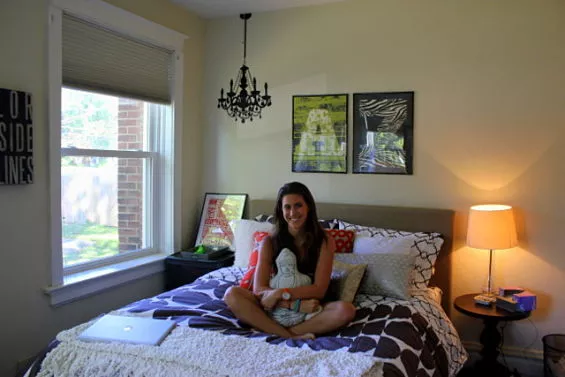 Dormify founder and Wash. U. senior Amanda Zuckerman in the bedroom of her off-campus apartment, decorated with Dormify's Fall Into Fall bedding collection.
Amanda Zuckerman is a young woman with discerning tastes. "I'm very into fashion," she says. "And if you care about fashion, you're going to care about how your dorm room looks. It's another form of self-expression."
Three years ago, though, when she and her mom, Karen, made the epic shopping trip to purchase fittings for her very first dorm room at Washington University, she was bitterly disappointed.
"Everything was so youthful," she complains. "It's stuff I could have had back in elementary school."
As they made the rounds of stores near their home in Potomac, Maryland, trying to assemble, piecemeal, a dorm room that would best display Zuckerman's personal style, an idea occurred to them: Why not start a business that sold cool, sophisticated dorm room furnishings all in one place and shipped them straight to school?
Now Dormify.com is one of the leading online retailers for stylish extra-long twin sheets, comforters, decorative pillows, wall hangings, desk accessories and, most importantly for dorm rooms, not known for their spaciousness, storage boxes and organizers. A team of 250 style advisers at colleges across the country are on-hand to tell shoppers exactly what to do with it all.
Since it's back to school season, Dormify -- and Zuckerman, now a senior double-majoring in graphic design and marketing -- have been subject to a barrage of publicity in the past few weeks, including a mention in an article in the New York Times and a segment on Fox and Friends on Fox News, which inspired Zuckerman to create a design scheme targeted at guys.
("They asked to see a boy's room set," Zuckerman recalls. "We didn't have one. Most guys we've talked to don't care; they say their moms will buy all their stuff for them. But Fox really wanted a boy thing, so we put together a duvet made out of sweatshirt material, some bold-patterned sheets and a pillow that said 'Call Your Mom' and called it the Stud Collection." To Zuckerman's surprise, it's turned out to be a pretty good seller.)
Zuckerman credits her company's success to several factors: First, the fact that Karen Zuckerman is the president of HZDG, a Rockville, Maryland, based advertising firm, and so was able to donate designers and office space to the fledgling start-up. ("Since we didn't have much money," Zuckerman says, "it worked out really well.") Second, a group of enthusiastic investors who have contributed $1 million so far. And third, Zuckerman's own skill with social media, which has generated 10,000 Facebook fans and 2,000 Twitter followers, all of whom are kept apprised of new products and decorating trends and new additions to Dormify's highly-trafficked blog.
The style adviser program helped, too. At first it was comprised of Zuckerman's style-minded friends, but through the social network, she says, "it spread info like wildfire. Even with one person doing one Tweet or liking one thing. Very quickly it became friends of friends and friends of friends of friends. It was really cool."
The blog was, in fact, the beginning of the company. It went live in late 2009, at the end of the first semester of Zuckerman's freshman year and it offered style and decorating tips (for example, to rearrange your furniture before you start moving stuff in). The e-commerce site didn't launch until the spring of 2011. Since then, Zuckerman says, the company has grown ten-fold. It's also started to turn a small profit, but currently the Zuckermans are more concerned with growth.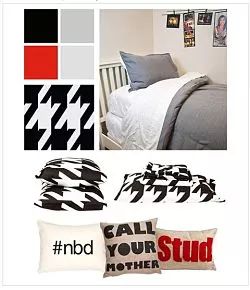 Dormify.com
The Stud collection, Dormify's first decorating scheme aimed at guys. The "Call Your Mother" pillow is a big seller.
In the beginning, HZDG designers working for Dormify set the brand guidelines, color scheme, logo and general aesthetic. (Now the company has four full-time employees, though it still operates out of the HZDG office.)
"We all worked together," Zuckerman says. "I was only eighteen at the time. I picked the final logo. Whenever there was a major decision, I voiced my opinion. I was the target audience. That made me feel like I had authority." This also makes her the public face of the company and its main spokeswoman.
Dormify designs most of its bedding, wall prints and decals. Originally these were all made in China, but in the second round of production, the company switched to American manufacturers. Zuckerman and the team fill out the rest of the product line by visiting gift shows.
"We curate the website with products we like," she says.
This past summer Zuckerman took a more active design role, working in the company's newly-created New York office. Dormify recently established a partnership with We Stop Hate, a non-profit that fights bullying (and which was also started by an eighteen-year-old girl). Zuckerman helped create the promotional materials. She designed posters, worked on the company's line of holiday-themed wall decorations, helped expand the sorority line, wrote product copy and worked on forecasting decorating trends for this fall. (She predicts tribal prints will be big.)
She also joined in discussions about ways to make Dormify a year-round company instead of one that's just focused on the back-to-school scramble. To that end, the company has introduced a series of "survival kits" parents can send their children (these include the "Oh Kit! What Have I Done?" hangover kit, which includes a hangover patch that Zuckerman claims really works, and the "Boyfriends Suck" breakup kit, which contains emergency chocolate and is currently sold out.)
Dormify will not, however, start selling furniture or kitchen implements, even though Zuckerman has just moved, with two roommates, into her first off-campus apartment, which they have decorated with Dormify accessories. "Furniture is a whole 'nother thing," Zuckerman explains, adding that she believes that students are less likely to buy things like pots and pans online.
When classes start, Zuckerman wants to remain as involved as possible, especially since she now has ties to different projects -- and since she'll probably work at Dormify full-time after she graduates, though she's trying not to be overly-optimistic: "It could either be ten times bigger, or it could disappear."
This year Zuckerman came back to school early to set up her apartment. Within days, she had visitors who wanted to see what she'd done with the place. "Everyone at school knows I had a cool-looking room," she says, almost modestly.