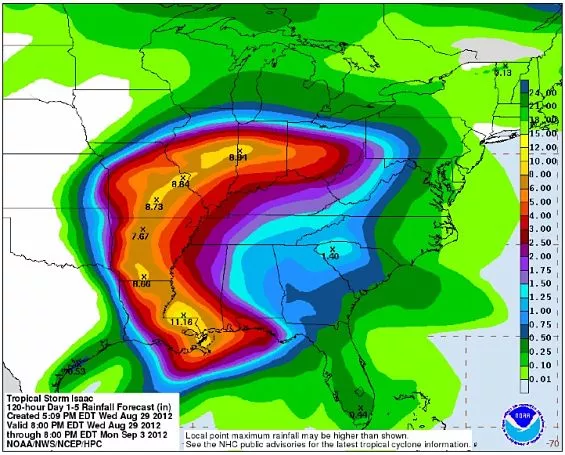 National Weather Service
The National Weather Service predicts Isaac will give us a little rain.
Hurricane Isaac, the storm no Republican could stop, blew across the Gulf and hit southeast Louisiana on Tuesday. By Wednesday afternoon, the winds had slowed to a mere 70 miles per hour, which prompted the National Weather Service to downgrade it to tropical storm status. Nonetheless, storm water has already breached the levees and residents of the parishes west of New Orleans have been forced to evacuate and most of NOLA itself is without power.
Sad news, yes, but Louisiana's loss is Missouri's gain.
This weekend, Isaac is scheduled to travel north, through Louisiana and Arkansas, where it will settle down to a tropical depression, and finally curve upward across Missouri, just nicking the northwest corner of the St. Louis metro area. All of which means...rain!
The storm is expected to reach the St. Louis area early Saturday morning. It's unclear how much rain we'll get -- forecasters' estimates range wildly, from two to nine inches, and there's some speculation that it will cause widespread flooding and damage, just the remnants of Hurricane Ike did four years ago.
(Just to keep you safe, the Metropolitan Saint Louis Sewer District has provided this handy guide to flood prevention.)
It's also unclear whether the rain will be enough to alleviate the effects of this summer's drought. Some parts of the state were twelve inches short of the usual amount of rainfall, the corn crop is pretty much done and the price of beef has already shot up drastically. But a few inches -- instead of the all the sound and fury and no water that we've been getting lately -- might be able to help a little bit.