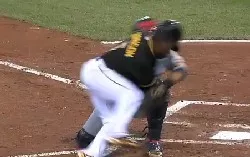 Josh Harrison knocks Yadier Molina down, but he's out.
Yadier Molina got blown the eff up by Josh Harrison on
a close play at home plate Tuesday night
, reigniting the ancient St. Louis-Pittsburgh war. Fortunately, Yadier has declared himself healthy, if a little sore, and he also ruled Harrison's hit as a "clean play" on Wednesday. Even better, Molina recorded the out. Manly.
Knowing that Molina's OK means we can once again enjoy the carnage of catchers being crushed by hard-charging runners. Join us after the jump for a selection of epic home plate collisions.
5.
Josh Harrison Decks Yadier Molina
You may have heard of this one. Harrison leads with his shoulder, Molina stops him with his face and the out is recorded. It's a crunching impact, but will it stand the test of time as one of the most devastating home plate run-ins ever, or is it just because it's so fresh that it seems so violent? (Watches clip again.) Yeah, that's pretty brutal.
4.
Mitch Canham Decks Flint Wipke
Catcher on catcher violence! Baserunner
Mitch Canham
is listed at 6'2'' and 205 lbs -- and he's currently a Memphis Redbird, but at the time of this play he was a catcher for the Lake Elsinore, um, Hamlets? (
Wrong -- Lake Elsinore Storm
). Catcher
Flint Wipke
is 6' and 215 lbs -- and he was born in Louisiana, Missouri, just so's you know. Two big guys who both know the importance of defending the plate meet in titanic blast of kinetic energy. It may be the minor leagues, but the collision is major.3.
Pete Rose Decks Ray Fosse
Rose was famous for being a hard-charger on the field -- this was before he became famous for gambling, you see -- and this play became emblematic of the legend of Pete Rose. The fact that Charlie Hustle exploded Fosse in an All-Star Game (back when it didn't mean anything) may have something to do with it being so widely-known. Or maybe it's because Fosse suffered a separated shoulder and was a changed player after this game.
2.
Scott Cousins Decks Buster Posey
Buster Posey did indeed get destroyed on this play, Mr. Announcer Man, suffering a broken leg and ligament damage. It was serious enough that Posey's agent, Jeff Berry, made a call for MLB to
change the rules regarding plays at the plate
-- a call that went unanswered, because why change a good thing?
1. Phil Bradley Decks Buck Martinez
An unbelievable play. Martinez holds on to the ball as Bradley absolutely hammers him into the dirt, recording the out with a broken leg. Then Martinez tries to throw out the advancing Seattle baserunner, but the throw is errant, allowing the runner to head home. And yet outfielder George Bell got the ball back to Martinez in time for him to pick up the second half of the double play he himself started -- while he was down on the ground with a
broken leg
. Sadly, Buck Martinez never truly recovered from his injuries, and he retired midway through the next season.
BONUS: Jimmy Rollins Decks Jorge Posada
Rollins appears to bend the laws of the physical universe, spearing Posada so hard that his head and part of his arm briefly pierce Posada's torso. Catching: It's a tough way to make a living.