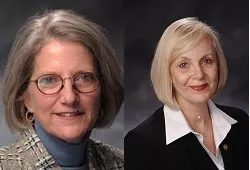 Rep. Susan Carlson (left) and Rep. Stacey Newman (right)
Election results have yet to be certified in the race for state representative in the 87th District. That's the district that saw incumbent Stacey Newman (D-73) and incumbent Susan Carlson (D-64) running against one another because of redistricting. At last (unofficial) count, Newman had a one-vote edge, 1,823 to 1,822.
Normally, a recount would be in order. But a polling place in Brentwood issued to voters 102 ballots for a different district. On Monday, County Circuit Judge Michael Jamison made the decision to have the voters come back to the polls and try it again.
The new election will take place Monday, September 24. Look for that election reminder in your mailbox if you're in the 87th District. And before you groan and mutter that your vote doesn't count, consider for a moment that if this past election had been properly handled, one vote
would
have decided it all.