Tamed mane: Colby before and after.
So, Colby Rasmus has cornrows. We heard about the news at -- where else? -- the beauty parlor. And while public reaction to the new look has been mixed (we're hoping his
biggest fan approves
), it got us to thinking:
What are the worst hairstyles ever in sports?
Following is our list. Got your own nomination? Leave it in the comment section.
No. 5: Andre Agassi's mullet
There's a long and distinguished list of athletes who wore terrible mullets over the years.
Randy Johnson comes to mind
.
Jaromir Jagr's was extraordinary
. But no one wore the shoulder duster as well as tennis star Andre Agassi. Even more incredible about Agassi's mane is that it was -- at times -- fake. In his 2008 autobiography, Agassi blames his wig for
costing him the 1990 French Open
.
No. 4: Terry Bradshaw: The balding pageboy
Sure. He has four Superbowl rings, has enjoyed a lengthy second career as a television analyst/yukster for Fox and had a cameo role in the greatest car movie of all time,
Cannonball Run
. He also has one of the worst 'dos in all of sport, second perhaps, to wrestling's Hulk Hogan. Oh, wait! They're the same haircut. C'mon guys. Face it. You're bald. Just shave that blond halo.
No. 3: Dennis Rodman's tie-dyed abomination
You pick 'em:
No. 3: Brian Bosworth's WTF?
Was it a flattop? A rat-tail? A mohawk? A cranial billboard? It depends on what day you caught the Oklahoma linebacker whose over-the-top antics and hairdo earned him a ton of coverage in the 1980s. Although his pro career fizzled quickly, The Boz's hair lives on today as an example of what not to wear.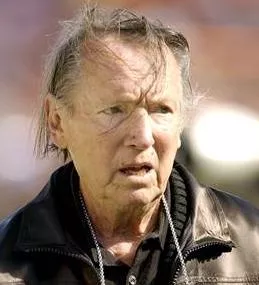 No. 1: Al Davis' comb-over
Too soon? For decades Al Davis' slicked-back hair, jewelry and sunglasses epitomized the look of the megalomaniac NFL owner. But in the years leading up to his 2011 death, the owner of the Oakland Raiders looked ever more disheveled. And that
Gordon Gekko
mane looked more like a homeless man's greasy comb-over. (
See these images for additional proof.
) Come to think of it, perhaps that's the new look Colby Rasmus is going for?