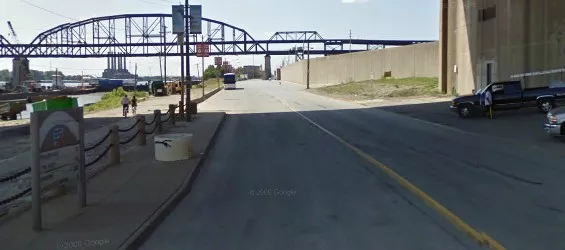 A pair of carjackers are in custody in Illinois this morning after shooting a man near the Poplar Street Bridge after midnight last night. Police say that at 12:24 a.m., a 41-year-old black man and a 27-year-old black woman were sitting on the hood of their car near Poplar Street and Leonor K. Sullivan Boulevard on the St. Louis side of the river (above). A green Chevy Silverado drove up to them and the driver, a black man with long dreads, got out of his truck.
He asked the couple if he could buy a cigarette, but neither of them smoke, so he headed back to his truck. He returned and asked if he could instead have change for a dollar. Simultaneously with that request, the passenger exited the Silverado with a silver handgun drawn and fired several shots at the man.
The victim was shot several times in the right hand and shoulder. The gunman then pointed his gun at the woman, who jumped off the hood of the car and ran. The shooter commandeered that car while his partner got back in the Silverado and the pair drove off. The wounded man was taken to the hospital in stable condition.
At 2 a.m. on the East Side, Illinois State troopers observed the stolen car and the Silverado driving in tandem near near Brooklyn, Illinois. Brooklyn Police then gave pursuit, which ended in a crash near 11th and St. Clair; it's unclear at this time which car crashed. After a short foot chase, both suspects were apprehended. Neither man has been identified yet while the investigation is ongoing.