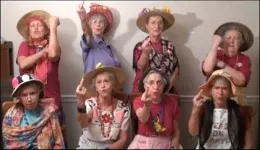 Image via
The Raging Grannies stick it to Todd Akin
Look, everybody knows things are
really
bad for senatorial candidate
Todd Akin
right now: One little "
legitimate rape" comment
and the guy's a a
national punchline
, a target of
violent threats
,
down in the polls
and
practically friendless
in his own GOP.
But now he's got these people mad at him.
Yes: Todd Akin has lost the support of the Raging Grannies.
The Raging Grannies are an
international sisterhood
of elderly dames who feel sufficiently irked by political realities to sing about them in protest. Their
recent song list
(which includes ditties against
Citizens United
and
military spending
) reveals their leftward leanings; so does
this message
on their website:
Let us be clear about the Grannies. We are totally non-violent, believe in only peaceful protest (with lots of laughter), work for the 'many not the few' (motto of the old Mechanics' Institute) and see our work as the spreading green branches of a great tree, rising up to provide shelter and nourishment for those who will come after us.

Grannies are best equipped to make public, corrupt things that have been hidden (often for profit). Local toxic waste sites that no-one seems prepared to tackle, asbestos sites employing young people desperate for work, nuclear waste products being dumped outside an uninformed small town, laws that affect an entire community, passed quickly with no opportunity for study. The list goes on.

Don't be fooled by these foxy ladies; here's something else they like to do:
The delights of grannying include: dressing like innocent little old ladies so we can get close to our 'target'....

Perhaps when the FBI said Akin was the target of physical threats, this is what they meant.