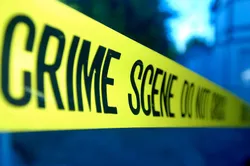 An 18-year-old black man told police he was walking in the 1800 block of O'Fallon Street just before 1 p.m. Sunday when he was assaulted. According to the incident summary, two black men who appeared to be 18 to 20 years old approached the victim on foot.
One of the suspects drew a handgun and fired approximately seven shots at him. The victim was struck multiple times as he ran for safety. He was eventually taken to the hospital, where he's now in stable condition.
The suspects are described as both being roughly 5'8'' with thin builds. Both of them have dark complexions; the shooter was wearing dark denim shorts and a white shirt, while his accomplice was wearing dark jeans and a dark shirt.
No motive has been given for the assault. Police continue to seek the shooters while the investigation continues.