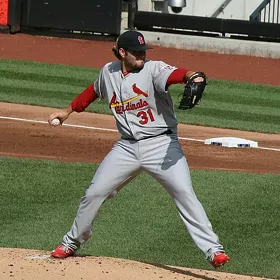 The Cardinals made it official over the weekend:
Lance Lynn
is on his way to the bullpen. Replacing him in the rotation will be
Joe Kelly
, who did such an admirable job filling in for
Jaime Garcia
this season while the lefty was on the disabled list. Let Lynn Versus Kelly: The Great Girl Name Pitcher Debate begin.
It's hard to argue with the logic behind this move; Kelly has continued to pitch fairly well since being moved into relief work, while Lynn has struggled badly for the past month. After looking like an ace in the making for the first few months of the season, Lynn has seen his ERA balloon up near the 4.00 mark and all his peripherals take serious turns downward.
Really, though, it isn't the fact Lance Lynn has looked bad that makes me think this could be the right move. It's the fact he just looks tired. A pitcher can work through struggles, be they mental or mechanical. Asking a pitcher to try and somehow work through fatigue is another matter entirely.
Still, while I think this could be a good move, I'm not at all convinced it was the best move the Cards could have made, given the situation.
Here's my problem with shifting Lynn to the bullpen: if the Cardinals are, as I believe them to be, working off the theory that Lynn's issues right now are caused by fatigue -- and that's a fair assumption, given that he has exceeded his innings total from last season by a full 40 innings already -- then I don't know the bullpen is really the right place for him. Sure, he won't be throwing 100+ pitches every five days, but it isn't as if he won't be pitching at all. And in relief work, there's really no way of scheduling when a given pitcher is going to get in the game, either; pitchers pitch when they need to. If the idea is to back off Lynn and give his arm some time to try to bounce back, the bullpen isn't going to offer that opportunity.To me, it would have been better to put Lynn on the disabled list. You know, with a really nasty case of TTS (Temporary Tourette's Syndrome), or a rash or something. Fifteen days on the shelf, with a few throwing days built in to work on mechanics and the like, would do a whole lot more good for Lynn's arm than putting him in a position to throw 25 pitches three times a week, often with very little notice and a hurried warmup.
As for how to fill in for Lynn while he's gone, that's a bit more complicated, but I think the team could have made it work. Best case scenario, for me at least: the team calls up
Shelby Miller
to ride
his recent hot streak
into his first major league start. Of course, that's not particularly realistic, so perhaps the team gives
Sam Freeman
another shot to get his legs under him; perhaps having an MLB stint already under his belt will help take away some of that deer in the headlights look. Or
Eduardo Sanchez
. I know this is a team in a playoff race and all, but half-assing this thing trying to find a solution that allows them to use Lance Lynn while still resting him somehow makes me think they may not be able to effectively do either one.
For the time being, I'll just keep my fingers crossed for Lance Lynn. I love watching the guy pitch -- in fact, he's one of my favorite pitchers; something about the sheer number of empty swings he gets with just a fastball -- but his ERA is over 7.00 the last month. That's just not going to get it done for a team with postseason hopes. This may not be my favorite move, but I can't say I hate it, either. Something needed to change. Let's all hope this is the right change.